Reformation Hymn Festival at St. John Lutheran Church
Published by Concordia University, Nebraska 5 years ago on Thu, Sep 7, 2017 9:47 AM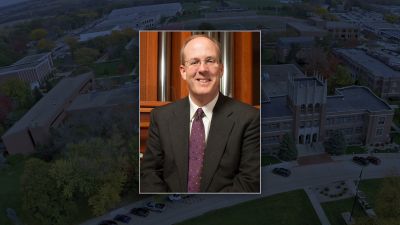 Dr. Jeffrey Blersch will be the organist for the Hymn Festival as part of Concordia's 500th Reformation Anniversary Event Series at St. John on Sept. 17, 2017.
Concordia's music department will present "Redeemed by His Grace: A Hymn Festival Celebrating the 500th Anniversary of the Reformation" at 3 p.m., Sept. 17, 2017 in St. John Lutheran Church.
Dr. Jeffrey Blersch, professor of music and University organist at Concordia University, Nebraska, will accompany the event. Senior Assistant to the President of the Lutheran Church – Missouri Synod, Rev. Dr. Jon Vieker, will act as commentator and give historical and spiritual background to the hymns.
Concordia's A Cappella Choir conducted by Dr. Kurt von Kampen, Cantumus Women's Chorus conducted by Dr. Blersch, and the Male Chorus conducted by Paul Soulek will all perform along with Professor Andy Schultz on trumpet and Dr. Wendy Schultz on trombone.
"The text of "Though All Our Life is But a Scroll" was written by Rev. Wilfred Karsten, pastor of Holy Cross Lutheran in Moline, Illinois," said Blersch. "I was then commissioned by Concordia Publishing House to compose a tune for this text and a concertato arrangement of the hymn."
The festival will include traditional reformation hymns such as "A Mighty Fortress" with a special arrangement by Blersch commissioned by Concordia Publishing House for the 500th anniversary of the Reformation. Other arrangements by Dr. Blersch, Dr. von Kampen, Paul Soulek and Professor Emeritus Dr. Charles Ore are included in the program. Dr. Blersch is especially excited to introduce, "a new hymn that was the winner of the LCMS's Reformation hymn writing competition.
The festival is free and open to the public.
Additional information about the 500th Reformation Anniversary is available online at reformation.cune.edu.