Protest is topic of art exhibit at Concordia
Published by Concordia University, Nebraska 11 years ago on Fri, Aug 12, 2011 5:03 PM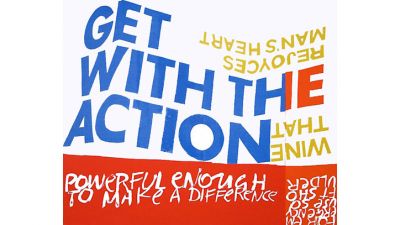 for emergency use soft shoulder, a serigraph by Corita Kent, will be part of the "A Joyous Protest" exhibit. (Corita. serigraph, 1965. Reproduced with permission from the Corita Art Center, Immaculate Heart Community, Los Angeles.)
"A Joyous Protest: The Graphic Work of Corita Kent" opened Monday, Aug. 22, and will run through Friday, Sept. 30 at the Marxhausen Gallery of Art on campus.
Kent gained international fame for her vibrant serigraphs, color prints made by a type of silk-screen process, during the 1960s and 1970s. Also known as Sister Mary Corita, Kent was a sister of the Immaculate Heart of Mary and ran the art department at the now closed Immaculate Heart College in Los Angeles until 1968 when she left the order to become a full-time artist. Kent drew inspiration from Biblical phrases and images and from popular culture to convey her messages for social activism, optimism and peace. Her rainbow design was featured on the 1985 Love stamp.
"As artist and teacher, Corita's innovative use of the word marks her as a visual revolutionary," said James Bockelman, director of the Marxhausen Gallery.
A panel discussion regarding the exhibit titled "Changing and Changeless Woman" is scheduled for 2 p.m. on Sunday, Sept. 18, in the Thom Leadership Education Center auditorium. Father John Folda from St. Gregory the Great Seminary, Seward resident Esther Pfabe and Sharon Nelsen, a former student of Sister Corita, will lead the discussion. Father Folda will speak on the theology of Mary and its relationship to Lutheran theology. Pfabe will discuss what it means to be a woman of faith in the 21st century. Nelsen will speak about how the learning climate was charged by nuns such as Sister Corita and the unique and stimulating educational environment that was created at the Immaculate Heart Community.
This event is open to the public. The Marxhausen Gallery is the on-campus exhibition space for Concordia and hosts a variety of exhibitions each year. It is located in Jesse Hall and is open Monday-Friday 11 a.m.-4 p.m. and Saturday and Sunday 1-4 p.m.