Programming team from Concordia places in top 10 percent of region
Published by Concordia University, Nebraska 8 years ago on Fri, Dec 5, 2014 10:45 AM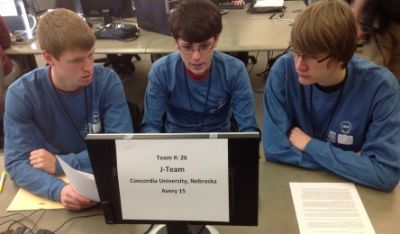 Jacob Henson, Jonathon Anderson and Joel Ristvedt placed in the top 10 percent at the ACM North Central North America Programming Contest at the University of Nebraska-Lincoln.
The J-team, all first-year students at Concordia, ranked 28th out of 290 registered teams and set a new Concordia record for solving five programming problems in the five-hour contest. The team of students from the Computer Programming I class competed for the first time this year as one of Concordia's three teams who entered the contest.
"The results speak highly of the team members' problem solving skills and ability to work together to develop solutions," said Professor of Computer Science Russell Mosemann. "All three teams represented Concordia University well at the contest. Now that the bar has been raised by the J-Team, future teams have a new goal to shoot for."
The teams were given nine problems and challenged to solve as many as possible within five hours. The J-Team solved its first problem in 15 minutes and solved four more before time ran out.
All three Concordia teams competed against other programming students from colleges and universities in the region, including areas south into Missouri, north into Canada and east to Wisconsin. Teams are composed of three students, and the contest is proctored at 16 contest sites in the region.
The contest is organized by the Association for Computing Machinery and sponsored by IBM. Regional winners proceed to the world competition, which is held in Morocco this year.
Contest participants included:
J-Team
Jonathon Anderson, freshman, Seward, Neb.
Jacob Henson, sophomore, Herrin, Ill.
Joel Ristvedt, freshman, Crete, Neb.
Bulld0gZ team
Anthony Fisher, senior, Elm Creek, Neb.
Ethan Kesar, junior, Omaha, Neb.
Ann Schmidt, senior, Giddings, Texas
g64+/-3 team
Luke Kaldahl, senior, Spencer, Iowa
Nehemiah Langness, junior, Larned, Kan.
Caleb Pfeil, sophomore, Hiawatha, Iowa