Professional pianist Richard Fountain performs at Concordia
Published by Concordia University, Nebraska 5 years ago on Thu, Mar 24, 2016 11:54 AM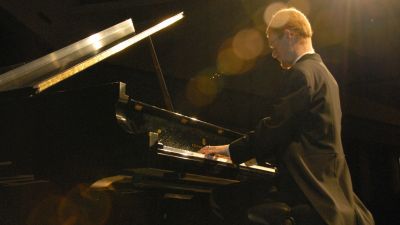 Pianist Richard Fountain performs with professional symphonies and teaches piano at the college level. He will perform at Concordia April 8, 2016.
Pianist Richard Fountain will be featured as a guest artist at Concordia University, Nebraska on Friday, April 8, 2016, at 4 p.m. in the Music Building's Recital Hall on campus.
Fountain studied with Leon Harshenin at Taylor University and Paul Barnes at the University of Nebraska-Lincoln. Currently, he holds the position of principal keyboard with both the Lubbock and Lincoln Symphony Orchestra. He has appeared in concert with the Marion Philharmonic Orchestra, the UNL Symphony Orchestra, Lincoln's Symphony Orchestra and the Plainview Symphony Orchestra.
Fountain has performed in concert recently at the Steinway showrooms in the Texas cities of Fort Worth, Plano, Dallas and Houston. He also appeared as a soloist in the Bach E-major Concerto with Chamber Music Amarillo.
Fountain participates in instrumental, vocal, chamber and choral performances with students and faculty at Wayland Baptist University in Plainview, Texas, at which he is an associate professor of collaborative piano.
Fountain is a member of the American Liszt Society and the Texas Music Teachers Association, and he recently served as president of the Lubbock Music Teachers Association. He also directs the choir at St. Andrew Greek Orthodox Church in Lubbock, Texas.