Prof. James Bockelman to present joint exhibit in Omaha
Published by Concordia University, Nebraska 4 years ago on Wed, Sep 5, 2018 12:11 PM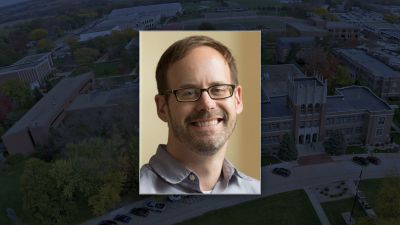 Jim Bockelman will be showcasing his art in some out-of-the-box exhibits at Project Project in Omaha, Nebraska.
Concordia University, Nebraska, art professor James Bockelman's work will be featured in Cleft, a collaborative exhibition in Omaha from Sept. 14 through Oct. 5 in the Project Project Gallery.
Cleft comprises a central installation created between Bockelman and artist Michael Ian Larsen. The two express the idea of mirror and symmetry through a split reality piece about bathrooms. The exhibit will also feature a sculpture of Larsen's and two video projects by Bockelman, titled "Escalate" and "Rising and Falling."
Of the installation, Bockelman stated, "Michael and I tried to mimic those restrooms we've experienced, to reflect the mundanity and messiness of everyday life."
The exhibition will be on display in Project Project, an alternative art space in south Omaha, Nebraska. The opening reception is at 6 p.m. on Friday, Sept. 14 and continue on through Oct. 5. Viewing is available at the reception or by appointment. More information is available on Project Project's website at http://projectprojectomaha.com/.
James Bockelman is a professor of art at Concordia and the Director of the Marxhausen Gallery of Art. He received his Bachelor's degree from Concordia and went on to earn his Master's in Fine Arts at the University of Nebraska-Lincoln. Since then, he has taught at the university level for 20 years and has had numerous solo exhibitions throughout Nebraska, including the Sheldon Museum of Art in Lincoln, the Museum of Nebraska Art in Kearney and Peru State College. Bockelman also had a solo exhibition at Kunstoffice in Berlin, Germany.