Premier musicians to perform in spring honor recital at Concordia University, Nebraska
Published by Concordia University, Nebraska 7 years ago on Fri, Apr 8, 2016 11:34 AM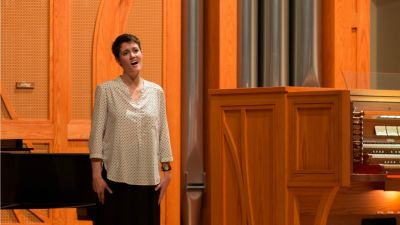 Some of Concordia's top student musicians, including sophomore Meredith Locke, pictured here, will perform in the university's honor recital April 14, 2016, at 7 p.m.
The semiannual honor recital at Concordia University, Nebraska will showcase the vocal and instrumental talents of 12 student musicians. The recital will begin at 7 p.m. on April 14, 2016, in the Music Center Recital Hall. The concert is free, and the public is invited to attend.
Musicians are chosen to perform based on auditions judged by music department faculty. The recital is held twice a year, once each semester.
Participants in this year's spring honor recital include (alphabetical by state, city and last name):
Meredith Locke, sophomore, Winter Haven, Fla., singing "Gretchen am Spinnrade" by Schubert
Jacob Henson, senior, Herrin, Ill., playing "Vals Op. 8, No. 3" by Mangore' on the guitar
Jacob Roggow, freshman, Moro, Ill., playing "Barcarolle" by Tchaikovsky on the guitar
Karina Keating, junior, Woodstock, Ill., playing "Ballade" by Périlhou on the flute
Matthew Gerhold, freshman, Atkins, Iowa, singing "Every Valley Shall Be Exalted [from Messiah]" by Handel
Karl Rovey, senior, Springfield, Mo., playing "Ich Ruf zu dir, Herr Jesu Christ" by Bach on the organ
Joel Marquardt, senior, Denver, N.C., playing "Black Key Etude: Op. 10, No. 5" by Chopin/Maxey on the marimba
Paige Stadler, freshman, Columbus, Neb., singing "Porgi, armor [from Le Nozze DiFigaro]" by Mozart
Lauren Staehr, senior, Grand Island, Neb., singing "Augusta! How can you turn away?" by Moore
Elyssia Finch, senior, Omaha, Neb., singing "Unbel Di vedremo [from Madam Butterfly]" by Puccini
Laura Hedstrom, junior, Oxford, Neb., playing "Organ Symphony No. 1" by Vierne on the organ
Grace Woelmer, junior, Allen, Texas, playing "Nocturne in D-flat Major, Op.,27, No. 2" by Chopin on the piano