Plum Creek festival awarded Humanities Nebraska Grant
Published by Concordia University, Nebraska 6 years ago on Thu, May 14, 2015 11:11 AM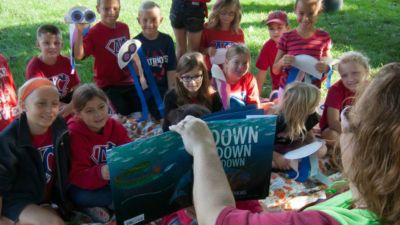 The Plum Creek Children's Literacy Festival will hold the 20th annual event Oct. 1-3 this year at Concordia University, Nebraska. The festival draws more than 10,000 students, teachers and community members to campus each year.
Concordia University, Nebraska's annual Plum Creek Children's Literacy Festival has earned a $13,750 grant from Humanities Nebraska to help fund the 20th annual event this fall.
"Humanities Nebraska has shared the vision of the Plum Creek Children's Literacy Festival for many years," said Janell Uffelman, director of the festival. "We celebrate Humanities Nebraska's role as a major donor and as a partner in literacy for the 10,000-plus attendees of this year's historic festival."
Created in 1973 as a state affiliate of the National Endowment for the Humanities, Humanities Nebraska is an independent, non-profit organization governed by a volunteer board of public and academic members. Humanities Nebraska awards more than $257,000 in grants each year to programs that explore Nebraska's heritage, build community awareness and strengthen ties to cultural traditions at home and abroad.
The Nebraska Cultural Endowment is a public/private partnership that designates funds to Humanities Nebraska for distribution.
The Plum Creek Children's Literacy Festival will hold the 20th annual event Oct. 1-3 this year at Concordia. The anniversary festival will honor its history by showcasing authors and illustrators who have participated in festival activities in past years. Some new faces will also be present this year.
Authors and illustrators at the event will include returning favorites Andrew Clements, Carmen Deedy, Denise Fleming, Jerry Pallotta, Janet Stevens, Richard Peck and Steven Kellogg. Authors Eric Litwin and Peter Lourie are new to the festival.
The events on Oct. 1 for Seward schools and Oct. 2 for commuting schools include author talks, a play put on by Concordia's theater program and activities such as an art session, creative writing workshop, music session, science presentation and games on the green space on campus.
The festival will also include the Adult Conference on Oct. 3 with authors, illustrators and 12 literacy experts speaking on a variety of topics. The conference will also feature a luncheon and keynote address by Richard Peck, who has written more than 18 novels for young readers. Peck is a Newbery award winner.
Another highlight of the festival is a special exhibit of "The Art of Eric Carle: Feathers, Fins and Fur" in the Marxhausen Gallery of Art on Concordia's campus. The work of Carle, who created "The Very Hungry Caterpillar" and other books, will be on display Aug. 25-Oct. 3.
For more information on the festival, visit cune.edu/plumcreek.