Plum Creek Children's Literacy Festival welcomes award-winning authors and educators
Published by Concordia University, Nebraska 7 years ago on Tue, Sep 30, 2014 11:24 AM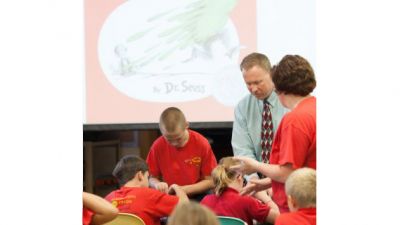 Brent Royuk, dean of Concordia's College of Arts and Sciences, facilitates an activity with students at the Plum Creek Children's Literacy Festival on Friday, Sept. 26, 2014, in Seward, Nebraska.
More than 10,000 children and adults from across the Midwest celebrated reading as part of the 19th annual Plum Creek Children's Literacy Festival Sept. 25-27 at Concordia. The festival connected youth and adults with nationally acclaimed authors and illustrators to encourage literacy education.
"The children were inspired and encouraged by the authors and illustrators who presented at this year's festival," Janell Uffelman, festival director, said. "They shared their personal experiences with thousands of children, and the looks of awe on the children's faces were priceless."
This year's festival featured 10 authors and illustrators: Rosemary Wells, Nick Bruel, Floyd Cooper, Jack Gantos, Steve Jenkins, Jeff Kurrus, J. Patrick Lewis, Brian Lies, Dandi Mackall and Jim Murphy. They visited students in Seward-area, Lincoln, York and Utica schools on Thursday, Sept. 25. On Friday, Sept. 26, thousands of students, their teachers and parent chaperones from Nebraska and Kansas traveled to Seward for the festival.
Thursday's and Friday's festival presentations included sketching demonstrations and video clips of the presenter's studio and illustration process, information about various types of illustration techniques, ways to get ideas for writing and details about the personal life of the author or illustrator and how that has impacted her or his work, among other topics geared toward children's experiences with reading, writing and illustrating.
The adult conference on Saturday, Sept. 27, included workshops presented by authors, illustrators and literacy experts. The adult sessions were of special interest to early childhood, elementary, middle-level and secondary teachers; reading specialists; home school teachers and media specialists. Content was designed to inspire teachers and parents with practical ideas to motivate students to read and write.
In addition to the authors and illustrators, adult conference presenters included literacy expert Linda Hoyt, author of 24 professional books, six video programs and several instructional resources including the book "Revisit, Reflect, Retell" and "Interactive Read Alouds." Other presenters included Donalyn Miller, author of "The Book Whisperer"; Dale Allender, director of the National Council of Teachers - West; Twyla Hansen, Nebraska State Poet; Tricia Parker-Siemers, language arts director for the Nebraska Department of Education; Monica Burns, Apple Distinguished Educator; Amanda Geidel, Concordia education professor; and Jill Johnson, ESU6 professional development consultant.
Books by the authors, illustrators and literacy experts were for sale during the conference, and attendees had an opportunity to meet and receive autographs from those selling merchandise.
The festival also featured "The Golden Legacy" art exhibit of 62 pieces of original illustration art from the Little Golden Books picture book collection. The exhibit was open to the public in Concordia's Marxhausen Gallery, located in Jesse Hall.
Featured authors/illustrators:
Rosemary Wells is the author and illustrator of the best-selling "Max and Ruby" series. Other unforgettable characters include McDuff, Noisy Nora and Yoko.
Nick Bruel is the author and illustrator of the New York Times bestselling and award-winning "Bad Kitty" series.
Brian Lies is the author and illustrator of more than two dozen books, including his New York Times bestselling bat books: "Bats at the Beach," "Bats at the Library" and "Bats at the Ballgame."
Jack Gantos is the author of more than 40 children's books including the Rotten Ralph picture books, Jack Henry short stories, upper elementary and middle school Joey Pigza novels, young adult novels—"Love Curse of the Rumbaughs," "Desire Lines" and a memoir, "Hole in My Life."
J. Patrick Lewis has published more than 85 children's picture/poetry books. He was recently awarded the 2010-2011 NCTE Excellence in Children's Poetry Award and was the Poetry Foundation's third U.S. Children's Poet Laureate.
Jim Murphy is a two-time Newbery Honor Book and Sibert Award-winning author of more than 30 young adult books about American history.
Floyd Cooper is an author and illustrator who has received numerous awards for his work, including the 2009 Coretta Scott King Illustrator Award for "The Blacker the Berry." Floyd has also earned three Coretta Scott King Honors for "Brown Honey and Broomwheat Tea," "Danitra Brown" and "I Have Heard of a Land."
Dandi Daley Mackall is an award-winning author of more than 450 children and young adult books, including "The Silence of Murder," "A Girl Named Dan" and "My Boyfriends' Dogs."
Jeff Kurrus is the editor of NEBRASKAland Magazine and author of the Golden-Sower nominated "Have You Seen Mary?", the recently released "The Shortest Grant Writing Book You'll Ever Need" and the upcoming "The Tale of Jacob Swift."
Steve Jenkins is an author and illustrator who is known for combining his love of science and proficiency in art in his books such as "What Do You Do With a Tail Like This?" and "Vulture View."
More information about the festival's authors and illustrators is available at cune.edu/PlumCreek.
Featured festival literacy experts and their conference session topics include:
Donalyn Miller
"Bring on the Books!"
"Conferring with Readers: Finding Focus"
Dale Allender
"National Council of Teachers of English"
Twyla Hansen
"Playing Around with Words: Reading, Writing and the Creative Process"
Tricia Parker-Siemers
"Protecting the Love of Learning in the Age of Accountability"
Monica Burns
"Making the Most of iPads in the Classroom"
Amanda Geidel
"Successful Intervention Plans from Start to Finish"
Jill Johnson
"Writing Instruction vs. Writing Assignments"
Founded in 1994, the Plum Creek Children's Literacy Festival seeks to encourage a love of reading, writing and books by bringing nationally renowned authors and illustrators to Nebraska. The festival started as a one-day, one-author event with about 200 children present. Since then, it has grown to three days and nine authors and illustrators, with around 10,000 children and adults in attendance. It currently includes sessions for early childhood, elementary, middle-level and secondary students as well as adults.
The Plum Creek Children's Literacy Festival won the Jane Pope Geske award given by The Nebraska Center for the Book for exceptional literary contributions in 2007. In 2010, it became a Read Aloud Nebraska Champion.