Plum Creek Children's Literacy Festival rallies votes on Facebook for grant
Published by Concordia University, Nebraska 7 years ago on Wed, May 7, 2014 10:41 AM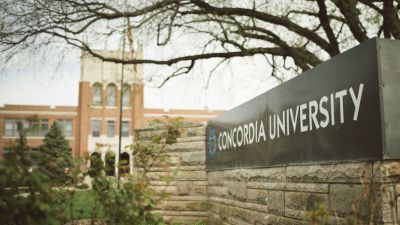 The Plum Creek Children's Literacy Festival has been selected by the State Farm Youth Advisory Board as one of 200 finalists out of 4,000 submissions to receive a $25,000 grant. The festival has through May 16 to rally votes of support through the State Farm Neighborhood Assist Facebook application.
Individuals are allowed up to 10 votes per day.
The festival, now in its 19th year, brings award-winning, dynamic authors, illustrators and education experts to Concordia. The event fosters a love of reading and writing through the experiences of the more than 10,000 children, teachers and community members who attend each year. There is no charge for the students in grades K-8 to attend and be inspired about the importance of becoming a lifelong reader and writer.
"The look on children's faces when they get to meet the author of one of their favorite books is priceless," said Janell Uffelman, director of the festival and professor of literacy-related courses at Concordia Nebraska. "Having the $25,000 grant would help us ensure we can provide the richest experience possible for all who attend the festival this year."
The next festival will be held September 25-27, 2014. The event will feature authors and illustrators including Rosemary Wells, Nick Bruel, Floyd Cooper, Jack Gantos, Jeff Kurrus, J. Patrick Lewis, Brian Lies, Dandi Mackall and Jim Murphy. Literacy experts presenting at the festival include Linda Hoyt, Dale Allender, Monica Burns, Amanda Geidel, Twyla Hansen, Jill Johnson, Donalyn Miller and Tricia Parker-Siemers.
The opportunity for the $25,000 grant is available through State Farm Neighborhood Assist, a youth-led philanthropic program that empowers communities to identify issues in their neighborhood.
"The great thing about the State Farm Neighborhood Assist program is that it gives individuals the opportunity to really think about what can be done to make their communities stronger," said State Farm Public Affairs Specialist Kelly Pargett.
On May 27, the top 40 vote-receiving causes will be announced on the Facebook app, and a $25,000 grant will be awarded to the affiliated nonprofits.
Find out more about the Plum Creek Literacy Festival at www.cune.edu/plumcreek and on the festival's Facebook page at www.facebook.com/plumcreekliteracy.