Plum Creek Children's Literacy Festival celebrates 24th year
Published by Concordia University, Nebraska 3 years ago on Fri, Sep 6, 2019 11:37 AM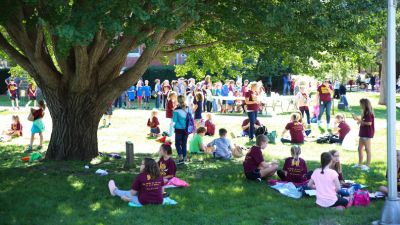 The 24th annual Plum Creek Children's Literacy Festival will be Sept. 19-21 at the Concordia campus.
Concordia University, Nebraska will host its 24th annual Plum Creek Children's Literacy Festival Sept. 19-21, featuring an assortment of nationally renowned authors and illustrators to encourage a love of reading, writing and books.
"Once again, this year's festival promises to be an engaging and inspiring event for all involved," said Dylan Teut, director of the Plum Creek Festival. "We are so thankful for the number of talented authors and illustrators who will soon head to Nebraska to engage children and adults in the craft of writing and illustrating, in addition to the love for books and reading. As we celebrate 24 years of offering this event to so many children at no cost to them, we are in awe of all of the passion that comes together to make the event what it is today. There is something for everyone."
Authors and illustrators at the event are Sarah Albee, Ben Clanton, Kate DiCamillo, Lita Judge, Alan Katz, Kekla Magoon, Kate Messner, Florence Minor, Wendell Minor, Barbara O'Connor, Lin Oliver, Jason Reynolds, Lori Richmond, Stephen Savage, Matt Tavares, Duncan Tonatiuh and Jacqueline Woodson. DiCamillo and Woodson will be giving keynote speeches at the Adult Conference Sept. 21.
The events on Sept. 19 for Seward-area schools and Sept. 20 for commuting schools include author talks, a play put on by Concordia's theater program and activities such as an art session, creative writing workshops and games on the green space on campus.
The festival includes an adult conference Sept. 21 with authors, illustrators and a number of literacy experts speaking on a variety of topics. The conference features a luncheon and keynote address by DiCamillo, who has written many popular novels including "Because of Winn-Dixie," and "The Tale of Desperaux," DiCamillo is one of six authors who have received the American Library Association's Newbery Medal multiple times. He is well-known for his book Holes, which was later made into a major motion picture and is the winner of the Newberry Medal and the National Book Award.
Additionally, a special exhibition titled "Fun on the Farm," is part of the Plum Creek Literacy Festival and is currently available for viewing at the Marxhausen Gallery of Art on Concordia's campus through Oct. 4. Admission to the Marxhausen Gallery is free and open to the public.
For more information on the festival, visit cune.edu/plumcreek.