Plum Creek Children's Literacy Festival celebrates 23 years
Published by Concordia University, Nebraska 3 years ago on Wed, Sep 19, 2018 11:45 AM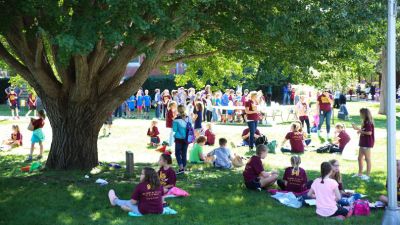 The Plum Creek Literacy Festival will be Oct. 4-6 on the Concordia campus.
Concordia will host its 23rd annual Plum Creek Children's Literacy Festival Oct. 4-6, 2018, featuring an assortment of nationally renowned authors and illustrators to encourage a love of reading, writing and books.
"The festival will be an inspiring and motivational three days for students, parents, teachers, librarians and book lovers," said Dylan Teut, director of the Plum Creek Festival. "Some of the nation's best-selling authors and illustrators are with us this year. We are excited to continue to grow in quantity and quality with each passing year, thanks to our many volunteers, donors and presenters."
Authors and illustrators at the event are Laurie Halse Anderson, Brian Biggs, Harry Bliss, Suzanne Bloom, Bruce Degen, Kelly Dipucchio, Chris Grabenstein, Ryan Higgins, Scott Magoon, Megan McDonald, Zachariah OHora, James Ransome, Lesa Cline-Ransome, Adam Rex and Steve Sheinkin. Peter H. Reynolds and Jon Scieszka will be at the Adult Conference.
The events on Oct. 4 for Seward-area schools and Oct. 5 for commuting schools include author talks, a play put on by Concordia's theater program and activities such as an art session, creative writing workshops and games on the green space on campus.
The festival includes an adult conference on Oct. 6 with authors, illustrators and a number of literacy experts speaking on a variety of topics. The conference features a luncheon and keynote address by Jon Scieszka, who has written dozens of books for young readers and was named the nation's first National Ambassador for Young People's Literature.
Additionally, a special exhibition of "The World of Jan Brett" is part of the Plum Creek Literacy Festival and is currently available for viewing at the Marxhausen Gallery of Art on Concordia's campus through Oct. 18, 2018. Admission to the Marxhausen Gallery is free and open to the public.
For more information on the festival, visit cune.edu/plumcreek.