Plum Creek Children's Literacy Festival celebrates 21 years
Published by Concordia University, Nebraska 5 years ago on Fri, Sep 2, 2016 9:57 AM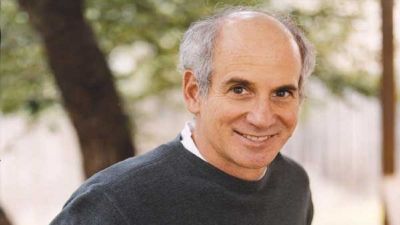 Louis Sachar will offer the keynote address at the Plum Creek Children's Literacy Festival. He has written 12 novels for young readers and is a Newberry award winner.
Concordia University, Nebraska will host its 21st annual Plum Creek Children's Literacy Festival Sept. 22-24, 2016, on campus in Seward. This year's festival will offer an assortment of new nationally renowned authors and illustrators to encourage a love of reading, writing and books.
"These well-known professionals graciously come to campus and visit the surrounding areas to engage children in reading, writing and illustration," said Dylan Teut, director of the festival. "Their interactions with the children align with the mission of the festival, which is to encourage a love of reading and writing, and we are so thankful that they have chosen to share their talents with us."
Authors and illustrators at the event are Peter Brown, David Carter, Matt de la Pena, Brian Floca, Loren Long, Linda Sue Park, Trent Reedy, Aaron Reynolds, Bob Shea and Salina Yoon. Louis Sachar and Sara Pennypacker will be at the Adult Conference.
The events on Sept. 22 for Seward schools and Sept. 23 for commuting schools include author talks, a play put on by Concordia's theater program and activities such as an art session, creative writing workshop, music session, science presentation and games on the green space on campus.
The festival includes an adult conference on Sept. 24 with authors, illustrators and 3 literacy experts speaking on a variety of topics. The conference features a luncheon and keynote address by Louis Sachar, who wrote his first book at 22 years old and is now 61. He has written 12 novels for young readers and is a Newberry award winner.He is well-known for his book Holes, which was later made into a major motion picture and is the winner of the Newberry Medal and the National Book Award.
One additional feature brought to the community by the Plum Creek Children's Literacy Festival is an art exhibition. A special exhibition of "The Original Art" presented by the Society of Illustrators will be held in the Marxhausen Gallery of Art on Concordia's campus. This exhibition is designed to showcase illustrations from the year's best children's books published in the U.S. It will be on display Aug. 29-Sept. 25. Admission to the Marxhausen Gallery is free and open to the public.
"The Society's exhibition will inspire every type of person in attendance to the event," said Teut. "For art directors, it's a treasure trove of talent to draw upon. For art students, it's a marvelous opportunity to examine the best work in the field. And for the public, it's a chance to appreciate the large range of creativity in children's books."
For more information on the festival, visit cune.edu/plumcreek.