Plum Creek Children's Literacy Festival benefits from two grants
Published by Concordia University, Nebraska 7 years ago on Fri, Jun 13, 2014 11:53 AM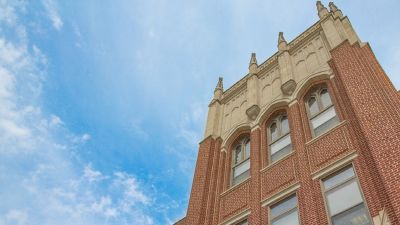 The Plum Creek Children's Literacy Festival, which annually brings award-winning authors, illustrators and education experts to Concordia will benefit from two grants that aim to encourage a love of reading in children.
The festival received a grant of $13,200 from Humanities Nebraska, an independent, non-profit organization that awards more than $200,000 in grants to programs that explore Nebraska's heritage, build community awareness and strengthen ties to cultural traditions at home and abroad.
The festival will also benefit from a grant of $4,500 from the National Endowment for the Arts awarded to Friends of Seward Library, Seward Memorial Library and Chapters Books & Gifts, partner organizations of the festival, to help fund The Big Read project in Seward, Nebraska. The Big Read is a series of reading events that will take place from September 2014 through May 2015, focusing on Jack London's classic, "The Call of the Wild."
The Plum Creek festival, hosted by Concordia for 19 consecutive years, fosters a love of reading and writing through the experiences of the more than 10,000 children, teachers and community members who attend each year. There is no charge for the students in grades K-8 to attend.
The next festival will be held Sept. 25-27, 2014. The event will feature authors and illustrators including Rosemary Wells, Nick Bruel, Floyd Cooper, Jack Gantos, Steve Jenkins, Jeff Kurrus, J. Patrick Lewis, Brian Lies, Dandi Mackall and Jim Murphy. Literacy experts presenting at the festival include Linda Hoyt, Dale Allender, Monica Burns, Amanda Geidel, Twyla Hansen, Jill Johnson, Donalyn Miller and Tricia Parker-Siemers.
Find out more about the Plum Creek Literacy Festival at www.cune.edu/plumcreek and on the festival's Facebook page at www.facebook.com/plumcreekliteracy.