"Pipedreams" radio broadcast production features Concordia's university organist
Published by Concordia University, Nebraska 7 years ago on Fri, May 6, 2016 10:33 AM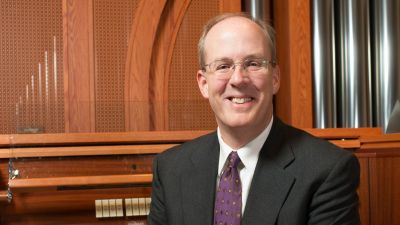 Dr. Jeffrey Blersch, professor of music and university organist at Concordia University, Nebraska
Two musical arrangements written and recorded by Concordia University, Nebraska's Professor of Music and University Organist Dr. Jeffrey Blersch will be featured during the second hour of American Public Media's weekly production "Pipedreams" on May 30, 2016.
Blersch recorded the two featured arrangements, "Still, Still, Still" and "While by Our Sheep," on the 2008 Casavant Frères organ, Opus 3868, in the Recital Hall of the Music Center on campus at Concordia.
Blersch is a graduate of the Oberlin College Conservatory of Music where he received degrees in organ performance and music education, and of the University of Michigan, Ann Arbor, where he earned the Doctor of Musical Arts in organ performance. His principal teachers have included Roberta Gary, Garth Peacock and Marilyn Mason.
Prior to his appointment at Concordia, Blersch served as cantor of Trinity Lutheran Church in Peoria, Illinois, associate professor of music at Concordia University in Ann Arbor, Michigan, and as an elementary music specialist in the Brunswick City Schools in Brunswick, Ohio.
Blersch has been an active church musician since being appointed organist of Peace Lutheran Church in Cincinnati, Ohio, at age 8. Best known for his creative hymn interpretations, he regularly performs recitals and hymn festivals across the United States. Recent appearances have included hymn festivals at The Meyerson Symphony Center in Dallas, Texas, and conventions of the American Guild of Organists, Association of Lutheran Church Musicians and National Association of Pastoral Musicians.
Blersch is also an active composer. More than 100 of his compositions and collections are published exclusively with Concordia Publishing House, and four of his original hymn tunes are included in Lutheran Service Book. He has produced two compact disc recordings of his original works: "Resounding Alleluias" and "On Christmas Night," the latter of which was recorded on Concordia's Casavant organ.
Blersch also serves as an organist and choir director at Our Redeemer Lutheran Church in Staplehurst, Nebraska.