Performance artist, designer present show in Marxhausen Gallery
Published by Concordia University, Nebraska 8 years ago on Fri, Feb 7, 2014 10:01 AM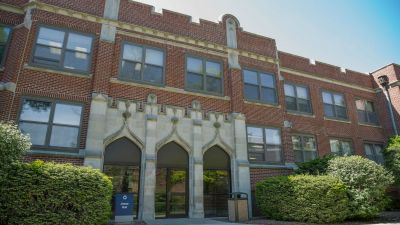 Concordia hosts art by Flora Wiegmann and Simone Duff
Dancer and performance artist Flora Wiegmann presented a video collection of her work titled "Onset" in the Marxhausen Gallery of Art at Concordia on Sunday, Feb. 23. The opening reception for the exhibit was held from 1 to 4 p.m., with a performance and artist talk by Wiegmann at 2 p.m.
"I begin each project with a specific conceptual framework out of which the work unfolds," Wiegmann said in an artist statement. "Historical inquiry is often a part of my work, whether it is regarding the specific site of performance or a current investigation of my own."
"Onset" features three videos of her work and one still-life image of a dance. Wiegmann also spent several days on campus as a visiting artist, giving a public talk, performing and meeting with students.
The gallery also features the work of Brooklyn's Simone Duff, an artist and production designer. Duff's portion of the exhibit features two conceptual pieces and a series of assemblages she calls "icons." She draws inspiration for her art from her experience of moving frequently and overcoming displacement and cultural change. Duff utilizes embroidered articles of clothing, quilts and religious icons to create a form of narrative art. Her goal is to tell a story through the objects.
"Inspired by the use of maps in colonization to legitimize land claims, particularly in regards to Native Americans and the settlement of the West, I mapped stains on a white skirt using embroidery," Duff said in an artist statement. "Used as a recording tool, embroidery combats the shame of imperfection by transforming accidents into beautiful occurrences."
The exhibit runs through March 28 and is open to the public. The Marxhausen Gallery is the on-campus exhibition space for Concordia and hosts a variety of exhibitions each year. It is located in Jesse Hall and is open Monday – Friday from 11 a.m. to 4 p.m. and Saturday and Sunday from 1 to 4 p.m.