Painting a message of hope
Published by Concordia University, Nebraska 12 years ago on Thu, Sep 30, 2010 7:10 PM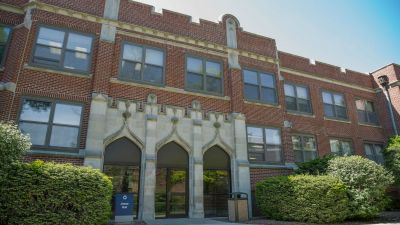 When senior Amber Konz began her eight paneled mural between Founders Hall and the Brommer Art Center she was armed with only paint and a hope it would turn out well.
"I had no idea what it would be like when I started," said Konz, who frequently works with textured backgrounds like those of the mural.
"I was a little worried when I couldn't come up with an idea the first couple days of school," Konz said. "I had the textures and I thought the textures were really beautiful, but I couldn't think of anything that would relate to the students."
Konz talked to professors and friends for ideas and someone suggested she base her mural off of the school's theme verse for the year, Nehemiah 9:6b: "You give life to everything."
"Once someone suggested using the theme verse that's when I really started rolling," said Konz. While researching the verse from Nehemiah, Konz found Isaiah 61:3, which says, "And provide for those who grieve in Zion -- to bestow on them a crown of beauty instead of ashes, the oil of gladness instead of mourning, and a garment of praise instead of a spirit of despair. They will be called oaks of righteousness, a planting of the LORD for the display of his splendor," and it became the theme for the mural.
The Isaiah verse spreads across the panels in words that say, "You are a God who replaces our suffering with joy. You remove the ashes and grime that cover us to reveal the beauty beneath," This mural is a symbol of faith for Konz.
"It's a message of hope to me," said Konz, "to know that we are sinful and yet are pulled out of the dredge and made beautiful in God's eyes."