Organ and art students showcase talent at First Friday series in Lincoln
Published by Concordia University, Nebraska 9 years ago on Fri, Jan 24, 2014 10:07 AM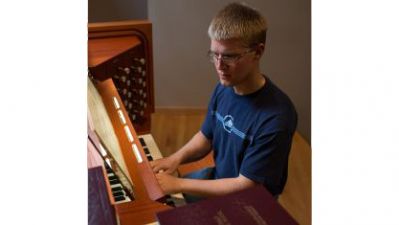 Peter Klinge, a junior at Concordia, performed on the organ as part of the First Friday concert series and art exhibition on Feb. 7 at Saint Paul United Methodist Church in Lincoln, Neb.
Music, art and fine cuisine were on the menu for the First Friday concert series and art exhibition at Saint Paul United Methodist Church in Lincoln. Students from Concordia performed on the organ and displayed original artwork as part of the series after lunch on Friday, Feb. 7.
"We always encourage our students to take every opportunity to perform. That is one of the key ways in which a musician grows," Professor of Music and University Organist Jeffrey Blersch said. "I also appreciate the opportunity for Concordia's music department to reach out into the Lincoln community. This gives students an opportunity to perform for a different audience."
The First Friday series, which is open to the public, is in its 13th season at Saint Paul. The church offers a $5 lunch prior to a free concert and art show to highlight local artists on the first Friday of each month during the academic year. The art show is a new addition this season.
Concordia first contributed to the series in 2010 when Blersch performed at one of the concerts. He then took students to perform in February 2012 and was asked to bring organists again this year.
Tom Trenney, minister of music at First-Plymouth Congregational Church performed on Saint Paul's Bedient organ. Concordia organ performances included music by composers Vincent Lubeck, Jean Sebastian Bach, Charles-Marie Widor, Dietrich Buxtehude and Paul Manz.
Performers included:
James Clausen, junior, Hull, Iowa
Erik Geilenkirchen, sophomore, North Platte, Neb.
Peter Klinge, junior, State Center, Iowa
Barbara Leising, junior, Arapahoe, Neb.
Matthew Porath, senior, Lincoln, Neb.
Sarah Smith, junior, Unadilla, Neb.
Thomas Wyatt, junior, Bethel, Minn.
Philip Yox, freshman, Mt. Pleasant, Texas
The art exhibition featured work by art majors and scholarship endowment recipients from the 2013 Concordia Student Art Exhibition, a juried art show judged by full-time faculty in Concordia's art department.
Artists included:
Crystal Bauer, senior, Sebewaing, Mich.
Jacy Beeson, senior, Waverly, Neb.
Sarah Bowe, junior, Omaha, Neb.
Amber Deepe, junior, Deshler, Neb.
Leah Eklof, senior, Cokato, Minn.
Jenelle Hallaert, senior, Omaha, Neb.
Nicole Hill, senior, Kansas City, Mo.
Grace Hollenbeck, junior, Parker, Colo.
Laura Kresha, senior, Omaha, Neb.
Mary Masur, senior, David City, Neb.
Alyssa McAfee, senior, Dannebrog, Neb.
Elise Ortmeier, senior, Beemer, Neb.
Teresa Plamann, graduate, Lincoln, Neb.
Brandon Ramos, junior, Wailukum, Hawaii
Michael Scheer, senior, Seward, Neb.
Ali Schuerman, senior, Crete, Neb.
Jennifer Smith, senior, Seward, Neb.
Dane Stahr, senior, Lincoln, Neb.
Hannah Uden, senior, Hastings, Neb.
Mitchell Volk, junior, Lincoln, Neb.
Jessica Wagner, senior, St. Louis, Mo.
Alyssa Wilson, senior, Fremont, Calif.
Micah Witt, sophomore, Faribault, Minn.
Luke Wohlgemuth, senior, Alton, Iowa
Saint Paul United Methodist Church is located at 1144 M Street in Lincoln, Neb.