"Notations" at Marxhausen Gallery of Art
Published by Concordia University, Nebraska 11 years ago on Thu, Feb 9, 2012 12:48 PM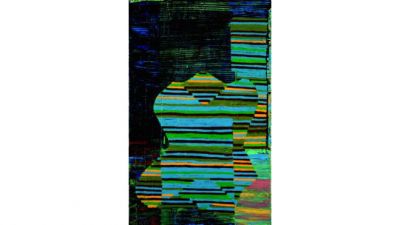 Artist Steve Roden's experimentation with chance as an organizing principle for visual and sound compositions makes his exhibition "Notations" a unique experience.
Concordia's Marxhausen Gallery of Art hosted "Notations," an audio and visual exhibit by Steve Roden, Feb. 5-March 23.
Students participated in workshops and studio critiques with Roden along with an artist/student public performance on Feb. 12.
A Los Angeles-based artist, Roden experiments with artistic media. Paint, drawing, collage and text are all featured in "Notations," as well as sound scores, video and performance art. Each piece in the exhibit explores the idea of notation.
Roden has participated in international performance groups and has lectured on his work and made studio visits at numerous universities including Harvard University and the San Francisco Art Institute.
The exhibit was part of the 2011–12 Fine Art Series sponsored by Jones National Bank & Trust Company.
The Marxhausen Gallery is the on-campus exhibition space for Concordia and hosts a variety of exhibitions each year. It is located in Jesse Hall and is open Monday-Friday 11 a.m.-4 p.m. and Saturday and Sunday 1-4 p.m.