New York City artist exhibits work at Concordia's Marxhausen Gallery of Art
Published by Concordia University, Nebraska 7 years ago on Fri, Oct 23, 2015 11:22 AM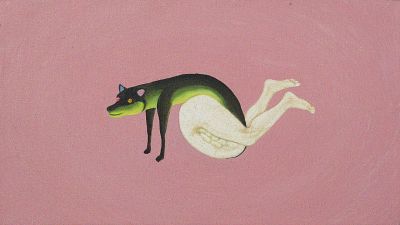 Akira Ikezoe Somersault. 2012. Oil on canvas as featured in "Body–Site: the Meeting of Nature and Culture," an exhibition curated by Akira Ikezoe for the Marxhausen Gallery of Art at Concordia University, Nebraska.
Concordia will display the artwork of Akira Ikezoe in "Body–Site: the Meeting of Nature and Culture." The exhibition will be available for viewing at the Marxhausen Gallery of Art from Nov. 8 through Dec. 16. There will be an open reception from 1 to 4 p.m. with a special talk by Akira Ikezoe on Nov. 8 at 2 p.m. in Concordia's Thom Leadership Education Center Auditorium.
Recently featured in "100 Painters of Tomorrow" at Beers Contemporary Gallery in London, Japanese-born, Brooklyn, New York, artist Akira Ikezoe will present the exhibition of international artists. It will include Ikezoe's drawing series, as well as video animation and films that explore how the body has become a site for political, religious and societal concerns. Among the artists included in the exhibit are Hiroshi Sunairi and Jorge De leon.
The Marxhausen Gallery is on the main level of Jesse Hall on Concordia's campus. All exhibits are open and free to the public. The Marxhausen Gallery hours of operation are 11 a.m. to 4 p.m. Monday-Friday and 1 to 4 p.m. on Saturdays and Sundays. The gallery is closed when classes are not in session.