Nebraska Ag Summit provides students an inside look at how technology impacts ag
Published by Concordia University, Nebraska 3 years ago on Fri, Nov 22, 2019 11:16 AM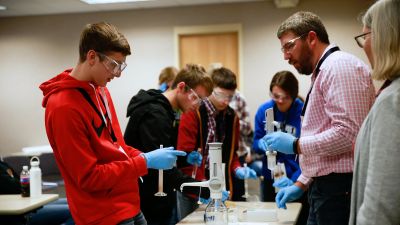 Rhett Kaufman, right, wheat quality manager at BASF, leads a workshop where students examine wheat hybrids during the Nebraska Ag Summit Nov. 22 at Concordia University.
Concordia University, Nebraska hosted the Nebraska Ag Summit Nov. 22, including an industry breakfast and a day for local high school students to learn about agriculture through interactive sessions.
"After hearing such positive feedback from the first Nebraska Ag Summit in March, we wanted to provide another valuable, hands-on experience for high school students who are interested in agriculture," said Scott Seevers, senior vice president of enrollment and marketing at Concordia. "We are grateful that so many ag industry leaders also joined us this year to discuss the growing role of technology in agriculture during the industry breakfast."
More than 100 ag industry leaders and participants, including Nebraska State Sen. Bruce Bostelman and Steve Wellman, director of the Nebraska Department of Agriculture, attended the breakfast. Sponsored by the Nebraska Bankers Association and the Alliance for the Future of Agriculture in Nebraska, the breakfast featured remarks by Sharyl Sauer, global business platforms communications leader at Corteva Agriscience. Sauer discussed the growing role that digital technology has in agriculture and how Corteva Agriscience is using technology to improve their products, inform customers and collaborate with others in the industry.
The event for high school students, sponsored again this fall by BASF, allowed students to discover agricultural topics, learn cutting-edge best practices and explore opportunities of future service in the industry. Throughout the day, students were challenged to evaluate the new and increasing ways that science and technology are impacting the future of agriculture. After Sauer presented her keynote to the students, they attended hands-on sessions led by industry experts including Rhett Kaufman, wheat quality manager, BASF; Monica Siebrandt, human resource manager, Lone Creek Cattle Company & Great Plains Beef; Sydney Snider, director of education and outreach, GrainBridge and Scott Wredt, IT development manager, Smart Chicken.
"We have had tremendous support from agriculture employers who are excited to bring their expertise and enthusiasm with the students, who walked away from each of these small group interactive sessions with a memorable hands-on experience," Seevers said.