Nearly 1,500 students from across Midwest showcase talents at Concordia
Published by Concordia University, Nebraska 6 years ago on Mon, Apr 4, 2016 11:46 AM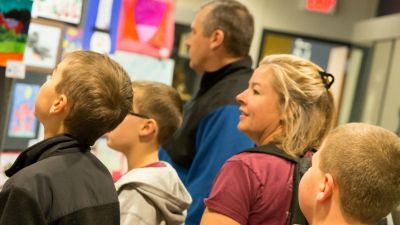 Community members review visual art projects created by students participating in Concordia's Gathering of the Talents event held April 2, 2016.
For the 72nd annual Gathering of the Talents festival held at Concordia University, Nebraska, nearly 1,500 elementary and middle school students showcased their talents on April 2, 2016. Participants and their families traveled from 49 schools and churches across Nebraska, Iowa, Missouri, Kansas and South Dakota in order to attend the festival.
"We are truly blessed to have so many participants come to campus and showcase their talents to glorify God," said University Events Manager Briianne Imig. "It is amazing to see all the incredible talents God has given these children."
Students in grades kindergarten through eighth participated in more than 1,700 events in five divisions including visual art, creative writing, drama, dance and music performance. All submissions and performances were judged and awarded ribbons—yellow, pink, blue or purple, the highest honor of the festival. The festival also included an art experience workshop for the fourth year in a row.
Each year, the Gathering of Talents festival is run by the university events manager and Concordia students, who manage the five divisions of talent. The students organize judges and set up dozens of other students to assist with the event.