Music students perform at Fall 2021 Honor Recital
Published by Logan Tuttle 1 year ago on Tue, Nov 23, 2021 3:24 PM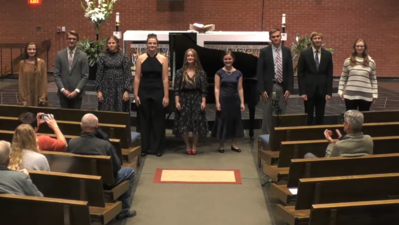 Concordia music students selected for the Fall 2021 Honor Recital included, from left: Rebekah Eatherton, Nathan Pennington, Jacee Pfeifer, Renata Peperkorn, Kirsten Horne, Jenny Horne, Nathan Johnson, Calvin Rohde and Makenna Clovis.
Concordia music students performed in the Fall Honor Recital on Nov. 14 at St. John Lutheran Church in Seward.
The semiannual honor recital at Concordia showcases the vocal and instrumental talents of student musicians. Musicians are chosen to perform based on auditions judged by music department faculty members. The recital is held twice a year, once each semester.
"It's always a great experience for our students to showcase their talents and all of the hard work they have put into their craft," said Dr. Kurt E. von Kampen, music department chair. "It takes a high level of dedication on the part of the students to rise to the level we see in the honor recital. The students who performed in this recital also represent many more students who are doing wonderful work throughout the semester."
Watch the performance, streamed by St. John Lutheran Church
Students selected for the honor recital include (listed alphabetically):
Makenna Clovis, senior, Albuquerque, N.M., playing "II. Autonme: Lento" from 6 Études de Concert, Op. 35 by Cécile Chaminade on the piano
Rebekah Eatherton, senior, Sheboygan, Wis., playing "Pan et les Bergers," from La Flûte de Pan, by Jules Mouquet, on the flute
Jenny Horne, junior, Canton, Kan., playing "Nocturne in Db Major, Op. 27, No. 2" by Frédéric Chopin, on the piano
Kirsten Horne, freshman, Canton, Kan., singing soprano on "Rejoice Greatly, O Daughter of Zion," from Messiah by George Frideric Handel
Nathan Johnson, senior, Reed City, Mich., playing "Sonata No. 6 in F Major, Op. 10, No. 2-II. Allegretto" by Ludwig von Beethoven on the piano
Nathan Pennington, junior, Lincoln, Neb., playing "Litanies" by Jehan Alain, on the organ
Renata Peperkorn, junior, Rocklin, Calif., playing "Carillon de Westminster" by Louis Vierne, on the organ
Jacee Pfeifer, senior, Holdrege, Neb., singing mezzo soprano on "Sept Mélodies, Op. 2-2. Le Charme" by Ernest Chausson
Calvin Rohde, sophomore, Reed City, Mich., playing "Moment Musicaux, Op. 16 – III. Adante Cantabile in B Minor" by Sergei Rachmanioff