The Moon, Mars and Jupiter to be viewed at Osten Observatory Open House
Published by Concordia University, Nebraska 5 years ago on Thu, Mar 23, 2017 12:01 PM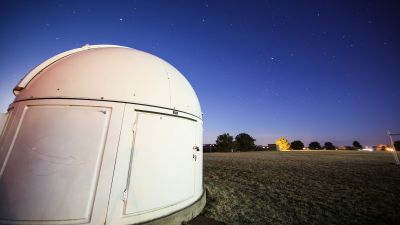 The Osten Observatory near Concordia's campus in Seward will hold an open house April 4–6, 2017, from 8:30 to 10 p.m.
The Moon, the planets Mars and Jupiter and the Orion nebula will be viewed at a special open house April 4, 5 and 6 from 8:30 to 10 p.m. at the Osten Observatory near Concordia University, Nebraska's campus.
"An amazing amount of detail will be visible on the Moon through the telescope," said Dr. Robert Hermann, professor of physics. "We will also look at the planets Mars and Jupiter (and some of its moons), and see a nebula where stars are being formed."
Dr. Hermann will provide a brief explanation of each object and will answer questions from attendees. There is no set program and visitors are urged to check the weather before they arrive as it can change quickly. If the sky is cloudy, or if it is very windy at the time the observatory is scheduled to open, the viewing will be cancelled for the night.
The observatory is located on the northeast corner of Concordia's campus on East Hill Crest Drive in Seward. Visitors should be prepared to walk across a short length of field as the path to the observatory is not paved. There is also a step up to be able to reach the telescope. There is no charge for admission.