Miriam Wolf '22 writes and directs Counter-Clockwise
Published by Logan Tuttle 1 year ago on Thu, Sep 16, 2021 8:23 AM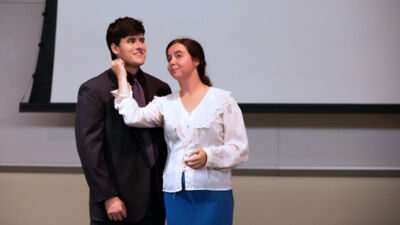 Counter-Clockwise, written and directed by Miriam Wolf, examines the relationship between Emmett, played by Brody Schofield and Hazel, played by Haleigh Fitzsimmons.
Concordia theatre students will perform Counter-Clockwise, written and directed by Miriam Wolf. The performances, which are free and open to the public, will be Friday, Sept. 17 at 7:30 p.m., and Saturday, Sept. 18 at 2 p.m., in the Thom Leadership Education Center auditorium.
Counter-Clockwise examines the relationship between Hazel and Emmett, the two main characters, and how it changes throughout time. Hazel is played by Haleigh Fitzsimmons, a senior from Lincoln, and Emmett is played by Brody Schofield, a senior from Sylvan Grove, Kansas. Also appearing is Leigha Meyer, a junior from Fenton, Missouri and Adam Prince a sophomore from O'Fallon, Missouri.
What started as a class project has turned into a production where audience members can expect to see a different take on romance and the traditional love story.
"I had to write a script that didn't follow a linear timeline, and I thought it would be interesting to watch something backward," Wolf, a senior from St. Louis, said. "I decided on a relationship because it could be as simple or complex as I wanted it to be. I wanted to show how love takes many forms, and how that creates a love story that doesn't fit in a mold."
Wolf said she's grateful for the cast and crew who have put in the hard work to produce the performances.
"This show would not be possible without them," she said. "I do not have the words to describe how blessed I am to have them bring this show to life."
Counter-Clockwise Cast and Crew
Haleigh Fitzsimmons, as Hazel
Brody Schofield, as Emmett
Leigha Meyer, as Grace
Adam Prince, as Silas
Allison Story, assistant director
Julie Oetting, stagehand
Krishanti Jones, stagehand
Alexa Spale, costumes, with help from the costume shop
Bob Olson, set design with help from the scene shop