"A Midsummer Night's Dream" in February
Published by Concordia University, Nebraska 10 years ago on Mon, Jan 24, 2011 5:48 PM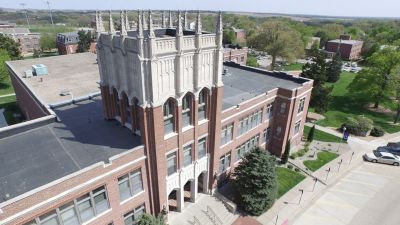 Students at Concordia brought one of Shakespeare's best known comedies, A Midsummer Night's Dream, to the Weller auditorium stage Friday, Saturday and Sunday, Feb. 4-6. Evening performances took place on Friday and Saturday at 7 p.m. with matinées on both Saturday and Sunday at 2 p.m. All performances were free and open to the public.
After the success of the student-led fall production of Twelfth Night, actors looked forward to tackling another Shakespeare play. Everything from the direction of the play to the costuming, make-up, lighting and sound was in the hands of the cast. While the multitasking was a challenge, the cast enjoyed being involved in all of the different aspects of the theatre process.
"It's an ongoing learning process, which makes it fun and educational," said cast-member Steven Whitney.
This year's student-led productions are additions to the theatre department's regular repertoire and offer more students a chance to be on stage. "We have also been able to get Concordia students who are first-timers in the theatre department," said Heather Niedfeldt. "They are getting the chance to become involved in the theatre program at Concordia!"
One of those novice actors is Tabitha Dubke, who regretted not auditioning for Concordia's fall production, Pirates of Penzance. "I chickened out," she said. "When I was told that I could audition for Midsummer, I thought I might as well give it a try."
Dubke, who also was head of the dance committee responsible for the choreography, was excited about playing the role of a fairy in Midsummer. "I'm learning that I do enjoy acting, but I need a lot of practice at it. I look forward to sharpening my acting skills."
Cast members
Austin Albers, Sophomore, Sioux Falls, S.D.
Kirsten Awe, Freshman, Tilden, Neb.
Nikki Baker, Senior, Arvada, Colo.
Elizabeth Barger, Senior, Fairbury, Neb.
Brittany Becker, Sophomore, St. Peters, Mo.
Nathaniel Bellin, Senior, Racine, Wis.
Tyler Beltz, Senior, Norfolk, Neb.
Nick Butcher, Freshman, Saginaw, Mich.
Stephanie Christensen, Senior, Seward, Neb.
Tabitha Dubke, Senior, Red Bluff, Calif.
Kristin Easler, Junior, Fredericks, Va.
Heather Eden, Junior, Boise, Idaho
Rachelle Gross, Senior, Riverside, Calif.
Marty Kois, Junior, Omaha, Neb.
Ruth Krc, Freshman, Frederick, Md.
Heather Niedfeldt, Junior, Stella, Neb.
Heidi Niedfeldt, Junior, Stella, Neb.
Jamie O'Laughlin, Freshman, Winona, Minn.
Bethany Osberg, Sophomore, Norfolk, Neb.
Jordan Schultz, Sophomore, Beemer, Neb.
Josh Schultz, Junior, Mapleton, Minn.
Caitlynn Schwehn, Sophomore, Grand Island, Neb.
Cayde Sprecker, Sophomore, Woodbine, Iowa
Jacob Wagner, Senior, Paullina, Iowa
Steven Whitney, Junior, Kenyon, Minn.
Elizabeth Wittig, Freshman, Saginaw, Mich.
Rebecca Wittig, Freshman, Saginaw, Mich.