Memorial service set for Reinhold Marxhausen
Published by Concordia University, Nebraska 11 years ago on Mon, Apr 25, 2011 12:35 PM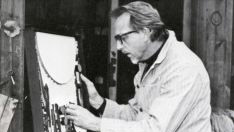 Reinhold Pieper Marxhausen (1922-2011). Photo from Concordia's 1971 Tower Yearbook.
A memorial service for Professor Emeritus Reinhold Marxhausen has been scheduled for 11 a.m. on Saturday, April 30, at St. John Lutheran Church in Seward. Marxhausen died April 23.
"Marx's loving, playful spirit could be seen in his art, his inventions, and the way he helped others to see creatively," said Rev. Dr. Brian Friedrich, Concordia's president. "His faith and legacy as a teacher have left a lasting mark on Concordia and all those who knew him."
Marxhausen taught at Concordia from 1951 until his retirement in 1989, mentoring hundreds of students and becoming well known for his creative teaching strategies. Marxhausen also gained recognition by exhibiting his artwork and giving talks and hands-on seminars at churches and schools nationwide. His most well-known works include giant mosaic murals in the Nebraska State Capitol building and charming, pocket-sized sound sculptures called Stardust.
As a teacher and speaker, he challenged his students and audiences to see truly, without preconception or bias, and to find beauty in the ordinary.
See also: Obituary page for Reinhold Marxhausen at Volzke Funeral Home, Seward, Neb. / Reinhold Marxhausen Blog / Marxhausen appearance on Late Night with David Letterman