Marxhausen Gallery of Art announces 2018-19 exhibit schedule
Published by Concordia University, Nebraska 4 years ago on Fri, Aug 31, 2018 11:09 AM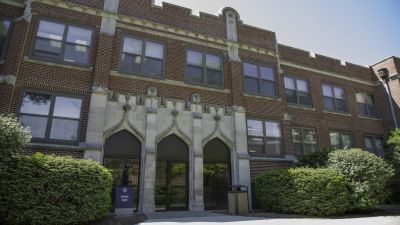 The Marxhausen Gallery of Art in Jesse Hall on Concordia's campus features a variety of art exhibitions throughout each academic year. The 2018 schedule kicked off on Aug. 20, featuring the original artwork of author-illustrator Jan Brett.
The Marxhausen Gallery of Art at Concordia announced its art exhibition schedule for the 2018-19 academic year. The gallery hosts a number of regional and nationally acclaimed art exhibitions, as well as faculty and student shows.
"This year the Marxhausen Gallery of Art is pleased to offer a number of dynamic exhibitions for a wide range of audiences," said Professor of Art James Bockelman. "The first exhibition, The World of Jan Brett, is presented in conjunction with the Plum Creek Children's Literacy Festival. Brett's animated artwork is like a childhood hideaway, a place where one can get lost in her world of illustrated stories."
The gallery's mission is to provide local and regional communities with opportunities to appreciate and understand the role of art and culture through its collection, exhibition programs and educational opportunities.
All exhibits are open to the public and free of charge. The Marxhausen Gallery is located in Jesse Hall and is open Monday–Friday from 11 a.m. to 3 p.m. and Saturday and Sunday from 1 to 4 p.m. during the fall and spring semesters while classes are in session. Admission is free to the public.
The Marxhausen Gallery 2018-19 schedule:
Aug. 20–Oct. 26
"The World of Jan Brett"
Plum Creek Literacy Exhibition
Oct. 12-14 Gallery closed for fall recess
Oct. 28–Dec. 12
Wiegmann and Wolfram: "In Between Surface and Time"
Gallery Talk: Sunday, Nov. 11, at 2 p.m. in the Marxhausen Gallery of Art
Nov. 17-25 Gallery closed for Thanksgiving recess
Jan. 7–Feb. 8
"Biennial Faculty Art Exhibition"
Opening reception: Sunday, Jan. 17, 1 to 4 p.m. with artist talk at 2 p.m. in Marxhausen Gallery of Art
Feb. 10–March 29
"Who Do You Say That I Am? Selections from the Permanent Collection"
Reception: Sunday, Feb. 17, 1 to 4 p.m. with talk at 2 p.m. in the Thom Leadership Education Center Auditorium
March 2-10 Gallery closed for spring recess
March 31–April 11
"Annual Student Art Exhibition"
Reception: Sunday, April 7, 1 to 4 p.m. with awards presentation at 2 p.m. in Marxhausen Gallery of Art
April 19-22 Gallery closed for Easter recess
April 14–May 1
"Bachelor of Fine Arts Thesis Exhibition"
Reception: Sunday, April 28, 1 to 4 p.m. with artist talk at 2 p.m. in Marxhausen Gallery of Art