Marxhausen Gallery of Art announces 2015-16 exhibit schedule
Published by Concordia University, Nebraska 7 years ago on Fri, Aug 14, 2015 10:33 AM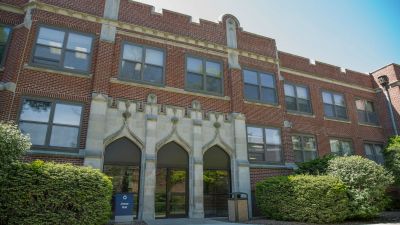 The Marxhausen Gallery of Art in Jesse Hall on Concordia's campus features a variety of art exhibitions throughout each academic year. The 2015 schedule kicks off on Aug. 24, featuring the art of Eric Carle.
The Marxhausen Gallery of Art at Concordia University, Nebraska announces its art exhibition schedule for the 2015-16 academic year. The gallery hosts a number of regional and nationally acclaimed art exhibitions, as well as faculty and student shows.
"This year the Marxhausen Gallery of Art is pleased to offer a number of dynamic exhibitions for a wide range of audiences," said Director of the Marxhausen Gallery of Art James Bockelman. "The first exhibition, featuring the art of Eric Carle, is presented in conjunction with the Plum Creek Children's Literacy Festival and brings a variety of the author's original illustrations to the campus gallery. For any fan of Eric Carle, young or old, this is a must-see exhibition! In addition, two curators originally from New York will round out the first semester."
The gallery's mission is to provide local and regional communities with opportunities to appreciate and understand the role of art and culture through its collection, exhibition programs and educational opportunities.
All exhibits are open to the public and free of charge. The Marxhausen Gallery is located in Jesse Hall and is open Monday–Friday from 11 a.m. to 4 p.m. and Saturday and Sunday from 1 to 4 p.m. The gallery is closed when classes are not in session.
The Marxhausen Gallery of Art 2015-16 schedule:
Aug. 24–Oct. 3
"The Art of Eric Carle: Feathers, Fins and Fur"
Oct. 5–Nov. 4
"The Picture of... Thoughts on Portraiture and Representation from Concordia's Permanent Collection of Art"
Opening reception: Sunday, Oct. 11, from 1 to 4 p.m. with public talk by Robert Mahoney at 2 p.m. in the Thom Leadership Education Center Auditorium
Nov. 8–Dec. 16
"The Body-Site: Meeting Nature and Culture"
Opening reception: Sunday, Nov. 8, 1 to 4 p.m. with artist talk by Akira Ikezoe at 2 p.m. in the Thom Leadership Education Center Auditorium
Jan. 11–Feb. 19
"A Ceramic Exhibition Curated by Shayla Marsh"
Opening reception: Sunday, Jan. 17, 1 to 4 p.m. with gallery talk at 2 p.m. in the Marxhausen Gallery of Art
Feb. 21–April 1
"Jered Sprecher: Retrospective"
Opening reception: Sunday, Feb. 21, 1 to 4 p.m. with artist talk at 2 p.m. in the Thom Leadership Education Center Auditorium
April 3–15
"Bachelor of Fine Arts Thesis Exhibition"
Opening reception: Sunday, April 10, 1 to 4 p.m. with artist talk at 2 p.m. in the Marxhausen Gallery of Art
April 17–May 4
"Annual Student Art Exhibition"
Opening reception: Sunday, April 24, 1 to 4 p.m. with awards presentation at 2 p.m. in the Marxhausen Gallery of Art