Lou Anne Mueri chosen as Outstanding Woman in Business
Published by Concordia University, Nebraska 8 years ago on Tue, Mar 5, 2013 4:09 PM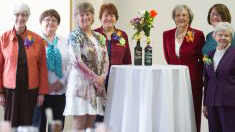 Lou Anne Mueri (third from left) was honored March 1 as Seward's 2013 Outstanding Woman in Business. Mueri stands with recipients of the award from the past nine years, who were also honored at the luncheon.
Lou Anne Mueri, co-owner of Mueri Drug in downtown in Seward, Neb., was honored with the Outstanding Woman in Business award at a Concordia University, Nebraska luncheon on Friday, March 1. This 10th annual event recognized the achievements of female business professionals in the greater Seward community. Recipients of the award from the past nine years were also recognized.
Mueri, along with her husband, Michael, opened Mueri Drug in 1979. While she has worked other jobs since moving to Seward 33 years ago, Mueri has always had a hand in the business, especially with book keeping and hiring employees. She also chooses which retail items are sold in the store each year. The couple recently moved the business from its original location, a small shop on Seward Street, to a larger building (formerly the Hall of Cards) just down the block.
"Through Lou Anne's hard work, dedication and perseverance, Mueri Drug has become a staple in the Seward community," said senior Megan Heiser, coordinator of the event. "It is because of that hard work, dedication and perseverance that we feel Lou Anne is deserving of this award."
Recipients of the Outstanding Woman in Business award are chosen each year based on their level of community involvement, their influence on the Seward community and their positive influence on the role of women in business. They must be in business for at least ten years to be nominated for the honor.
Past recipients of the award who were also honored at this year's luncheon include Lucy Bennett, Pat Coldiron, Lucille Duerr-Gaibler (posthumously), Helen Fliege, Marian Fosler, Bonnie Helmink-Elwell, Trish Johnson, Shirley Liesener, Barb Springer, Becky Vahle and Julie Wisehart.
"People keep asking me 'Is Seward ever going to run out of women to award?' and the answer is no," said Heiser. "Each year the choice becomes more and more difficult because all of the nominees are such great women."
The event was sponsored by Concordia's business club in partnership with Wild Chiropractic P.C., Memorial Health Care Systems, and Jones National Bank and Trust Company.