Local music faculty share performances with students, public at 2016 recital
Published by Concordia University, Nebraska 6 years ago on Fri, Sep 9, 2016 9:50 AM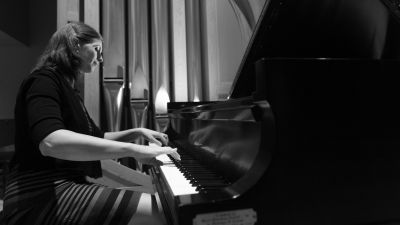 Concordia's Associate Professor of Music Dr. Elizabeth Grimpo, one of several Concordia faculty sharing their talents at the Faculty Showcase Recital, rehearses for the event, scheduled for Sept. 11, 2016, at 3 p.m.
Music faculty members at Concordia University, Nebraska will showcase vocal, instrumental and keyboard musical selections during a recital at 3 p.m. on Sept. 11, 2016, in the Music Center's Recital Hall on campus.
"We do this recital every fall because, quite simply, we love music," said Dr. Elizabeth Grimpo, associate professor of music at Concordia. "As faculty, we can do this through teaching as well as performing."
The recital will feature a variety of classic musical literature performed by several faculty members including Talea Bloch on soprano, Adrienne Dickson on mezzo soprano, Grimpo on piano, Ryann Johnson on oboe and Paul Soulek on organ.