Lincoln native Charley Friedman brings sculpture, photographs, video to Concordia's Marxhausen Gallery of Art
Published by Concordia University, Nebraska 8 years ago on Thu, Jan 1, 2015 10:34 AM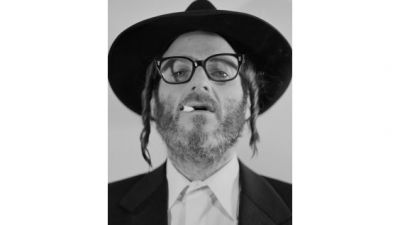 "Untitled (Chasid)." 2008. C-print. 4ft x 3ft. "Untitled (Chasid)" is part of Charley Friedman's ongoing photographic practice of creating self-portraits.
The exhibit "Charley Friedman: Tolerance" will display sculpture, photographs and video works of Lincoln, Nebraska, native Charley Friedman at Concordia University, Nebraska's Marxhausen Gallery of Art from Jan. 12 to Feb. 20. There will be a reception on Jan. 25 from 1 to 4 p.m. with a gallery talk at 2 p.m. in the Thom Leadership Education Center Auditorium.
"Whether playing the role of his alter ego, the art dealer Betsey Geffen, or constructing a larger-than-life installation of used Q-tips, the value of Friedman's art is defined by its ability to clarify the meaning and significance of life," said Director of the Marxhausen Gallery of Art James Bockelman. "Life, as Charley reminds us, can be as extraordinary or mundane as a smile."
One of the video works that will be featured in the Marxhausen is Friedman's "One Hour Smile," a 60-minute video in which Friedman sits in front of a camera holding a smile that by the end nearly becomes a grimace. Friedman first performed the piece in 1995 and performed it again in 2005. He will perform it again this year and present all three videos in the gallery. His intended goal is to complete a "One Hour Smile" every decade for the rest of his life.
Friedman recently moved back to Lincoln from Brooklyn, New York, and runs a studio gallery space in Lincoln called Fiendish Plots. He recently participated in an exhibition at the Irish Museum of Contemporary Art in Dublin, Ireland. Friedman's art is in the collections of The Brooklyn Museum, New York Public Library, Stanford University and Sheldon Museum.
He holds a master's degree from the School of the Museum of Fine Arts at Boston/Tufts University as well as a degree from The Skowhegan School of Painting and Sculpture. He has exhibited nationally and internationally and is represented by Gallery Diet in Miami, Florida.
The exhibit is open to the public and free of charge. The Marxhausen Gallery is located in Jesse Hall and is open Monday–Friday from 11 a.m. to 4 p.m. and Saturday and Sunday from 1 p.m. to 4 p.m.