Kyley (Weinberger) Cumbow '97 named South Dakota Secondary Principal of the Year
Published by Concordia University, Nebraska 3 years ago on Tue, Sep 29, 2020 4:21 PM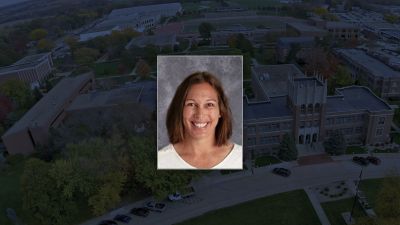 Kyley (Weinberger) Cumbow '97 was named South Dakota Secondary Principal of the Year in February 2020.
As a Concordia student, Kyley (Weinberger) Cumbow learned that serving God is to serve others. The 1997 graduate is living a life of service to her students, families and staff as principal of Georgia Morse Middle School in Pierre, South Dakota, and as an instructor in Concordia's education administration program.
In February, Cumbow was honored as South Dakota's Middle School and Secondary Principal of the Year, voted on by a committee of principals across the state.
"It is an absolute honor," Cumbow said, "but I accept the award on behalf of the most amazing middle school educators who I call my staff."
About six weeks later, Cumbow and her staff found themselves in the middle of a pandemic with every other educator in the country and around the world, where everyone's mettle was tested. Cumbow said the pandemic was a reminder that everyone is doing their best despite the circumstances.
"We used the word grace many times in the spring and I think it is important to remember this always and for everyone," she said.
Cumbow said she has been impressed with how her staff has shown their innovativeness and compassion throughout the pandemic — by showing how passionate and compassionate they are, including responding to students' needs from their own living rooms.
"Many of our students responded the same way and did an excellent job in a not-so-excellent scenario."
In the challenging pandemic environment, there was also a reality that some students' needs were not always met, Cumbow said.
"We are coming back to school with some students who have not done any organized schooling for the last five months," she said.
Like many challenges school administrators face, there is no textbook for leading a school or a district through a pandemic. Cumbow said she makes it a point in her Processes in Elementary and Secondary School Administration class to let her students know there's no replacement for on-the-job experience.
"A textbook can teach you many things, but there are other areas of learning that can only come once you get into your first principal job," she said.
Serving as a school administrator wasn't Cumbow's original plan, she says, but the opportunity presented itself in 2006 to become assistant principal at Georgia Morse, after teaching there for one year. As it turned out, her passion for leading and working with adult learners was a natural fit as she started her career in administration. In 2010, she was named South Dakota's Assistant Principal of the Year. Cumbow served as assistant principal until 2014, when she was named principal at Georgia Morse.
Originally from Kearney, Nebraska, Cumbow earned her master's from Chadron State College, in addition to a doctorate and specialist degree from the University of South Dakota after graduating from Concordia.