Ken and Lorinda Sankey, '80 Dedicate Their Lives to Lutheran Education
Published by Concordia University, Nebraska 4 years ago on Thu, Jun 15, 2017 10:41 AM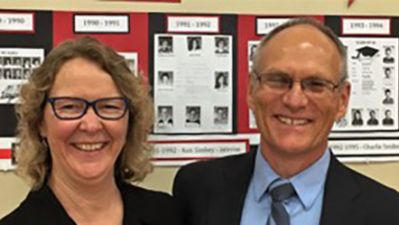 Mr. Ken Sankey, director of the Educational Administration program and liaison to the Lutheran Church – Missouri Synod (LCMS) School Leadership Development program (SLED) and his wife, Dr. Lorinda Sankey, associate dean of the College of Education, Health and Human Sciences and head teacher education, returned to Concordia last summer in a move that brought them full circle.
With lives dedicated to teaching, mentoring and answering God's call, Ken and Lorinda Sankey's passion and commitment to Lutheran education has become their lifelong mission.
Originally from Cheney, Kansas, Lorinda knew she wanted to be a Lutheran school teacher. Ken came to Concordia from Brookfield, Wisconsin, and both majored in elementary education receiving Lutheran Teacher Diplomas.
The two were married in 1980, right after receiving calls to Grace Lutheran School in Key West, Florida. Lorinda took graduate courses at Florida International University on diversity and diverse learners which was a new course of study in the early 1980's. Taking these two courses changed her "Kansas farm girl" thinking about what it meant to go to school.
"Concordia is a sending place," said Lorinda. "No matter what you come here for, students all know they are going somewhere. That's what makes it so special. Concordia is outwardly Christian – it isn't hidden here. There's a strong sense of identity."
After four years in Florida, Ken received a call to go to St. John's Lutheran in Aurora, Indiana, as both a teacher and principal. During this time, Lorinda stayed home with their three children and also started grad work. While in Indiana, Ken completed his Master's degree at Ball State in Muncie.
Ken then took a call to Zion Lutheran in Wilton, Iowa and Lorinda went back to work teaching at Central Lutheran School in Newhall.
They continued moving where God called them teaching and serving in Illinois (at Holy Cross, Collinsville and Zion, Bethalto), "It was at Holy Cross in Collinsville, Illinois where I realized I wanted to teach teachers," Lorinda said. "God put it in my mind and on my heart."
At this point, they were both doing doctoral work. Lorinda finished first and in 2008, she accepted a call to Concordia University Chicago where she taught for eight years and served as elementary coordinator. Ken served at St. Andrews, Park Ridge and was later called to Concordia University Chicago as the coordinator of the Lutheran Teacher Education program.
All three of the Sankey's children attended Concordia University, Nebraska, (all three married CUNE graduates), and all three were athletes. This gave Ken and Lorinda an opportunity to come back to campus often to see their children and watch them compete.
"We've been to all these places – Florida, Indiana, Iowa and Illinois, but being back here in this family community is great," said Ken. "When I sit in Bible class on Sunday mornings, it is so nice to see the retired professors I had. It's great to be in the same place and I'm still learning from them."
"I always pictured myself here," Lorinda said. "God put it together in the right way at the right time. It's like coming home."