Joan Tanderup to be named outstanding woman in business by Concordia University
Published by Concordia University, Nebraska 3 years ago on Thu, Mar 8, 2018 10:36 AM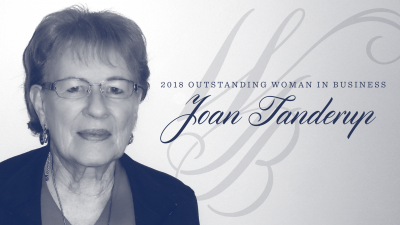 Joan Tanderup will be honored as the 2018 Outstanding Woman in Business at a luncheon at 11:45 a.m. on March 20, 2018
Joan Tanderup of Seward, Nebraska, will be honored as the 2018 Outstanding Woman in Business on March 20, 2018, by Concordia University, Nebraska at the 15th annual Women in Business luncheon.
The luncheon, hosted by Concordia University Business Club celebrates and recognizes the achievements and servant leadership of businesswomen in Seward County.
The luncheon will take place at 11:45 a.m. on Tuesday, in the Janzow Campus Center Cattle Conference room on Concordia's campus. Registration is due by March 12, 2018 and there is a suggested donation of $10 per person. Proceeds will go towards scholarships to benefit outstanding female business students of Concordia University, Nebraska.
Joanie Tanderup serves as president and CEO of Seward Motor Freight. She and her husband, Wayne, purchased and incorporated the business in 1969 with seven employees. After Wayne passed away in 2006, Joanie continued to successfully grow the business to more than 250 employees operating 150 tractors and a fleet of 400 trailers covering states from Pennsylvania to Utah and Minnesota to Texas.
The keynote speaker for this event is Linda Witham, Consultant and Owner of LLW Leadership, of Ventura, California. Witham has spent 28 years as managing partner with Thrivent Financial. She published a book in 2015 titled, "Women Matter: The Why and How of Gender Diversity in Financial Services."
The Outstanding Woman in Business award is presented each year by the Concordia University Business Club. Sponsors for the 2018 Women in Business luncheon are Cattle Bank & Trust, Hughes Brothers, Jones National Bank & Trust, Co., Memorial Health Care Systems, Sandhills Publishing, Air Force, Army, Awe Salon, Celerion, Cobblestone Hotel & Suites, Edward Jones Investments, Gabriel, Burger & Else, Hackbart Chiropractic, Lutheran Church Extension Fund, Runza, Self-Serve Storage, Seward Smiles, Sid Dillon – Crete, Thrivent Financial, Walmart, Wild Chiropractic & Acupuncture, Zelle-HR Solutions.