Jered Sprecher featured in Marxhausen Gallery of Art
Published by Concordia University, Nebraska 6 years ago on Wed, Feb 10, 2016 9:33 AM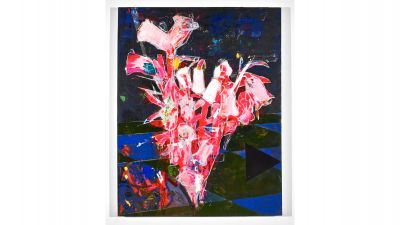 "Calling." Jered Sprecher. 2013. Oil on canvas.
Concordia University, Nebraska is pleased to present "Now and Not Yet: Paintings and Drawings by Jered Sprecher" from Feb. 21 to April 1, 2016. The exhibition will be available for public viewing in the Marxhausen Gallery of Art on campus at Concordia. Along with the exhibition, an opening reception will be held on Sunday, Feb. 21, from 1 to 4 p.m. with an artist talk at 2 p.m. in the Thom Leadership Educational Center.
The exhibit of recent drawings and paintings captures the disconnected and arbitrary; as Sprecher stated, they reflect his interest in "fragments in the midst of change, destruction, redefinition and restoration."
Sprecher's artwork is exhibited nationally and internationally, most recently at Steven Zevitas Gallery in Boston, Jeff Bailey Gallery in New York, Gallery 16 in San Francisco, and Espai d'Art Contemporani de Castelló in Spain. Among many of his accomplishments, Sprecher is a recipient of the John Simon Guggenheim Fellowship, and in 2013 he was the Artist-in-Residence at the Chinati Foundation in Marfa, Texas.
Sprecher is an alumnus of Concordia and is currently an associate professor at the University of Tennessee in Knoxville.
All exhibits at the Marxhausen Gallery of Art are open to the public and free of charge. The gallery is located in Jesse Hall on campus and is open Monday–Friday from 11 a.m. to 4 p.m. and Saturday and Sunday from 1 to 4 p.m. The gallery is closed when classes are not in session.