Jallah Bolay '20 brings passion for service to Firespring role
Published by Logan Tuttle 5 months ago on Thu, Jun 17, 2021 9:42 AM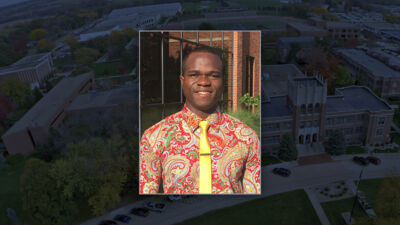 Jallah Bolay '20, originally from Liberia, Africa, is utilizing his passion for serving others through his role at Firespring, Nebraska's first certified B Corporation.
While Jallah Bolay was earning his associate's degree at Colby Community College in Colby, Kansas, he learned about Concordia University, Nebraska from friends at his church. After looking into the university, Bolay, originally from Liberia, West Africa, saw how much the campus valued community, and as a member of The Lutheran Church—Missouri Synod (LCMS), he knew it was the place for him.
"Community was important to me because I come from an African culture where people and relationships are always the top priority," Bolay says. "With Concordia being an LCMS Lutheran institution, I immediately felt like an insider and at home."
At Concordia, Bolay says his professors were tough, but relatable and very supportive, who saw potential in him and challenged him to grow.
"I had direct access to my professors to discuss an idea or get help with better understanding a lesson when needed," he says. "I have said this before, and I will repeat it—it makes a big difference to be in an environment that has an opportunity to help you grow. Concordia is a classic example of that."
Coming from Africa by way of Kansas, Bolay participated in many campus organizations, including serving as Student Senate President, a LAUNCH leader, Peer Minister, Resident Assistant and a member of the University Foundation.
"Granted, I had to get out of my comfort zone and work hard, but none of those experiences would have been possible without God first and the opportunity to pursue them—backed by the supportive campus environment."
The community at Concordia has provided him the opportunity to build life-long relationships with fellow students, some faculty and staff members, as well as people in Seward.
After graduating in May 2020 with his degree in business administration and marketing concentration, Bolay was hired by Firespring, a full-service strategy, printing and technology agency based in Lincoln, which is Nebraska's first certified B Corporation. His experience in Concordia's business program fed his passion for serving others, which he now carries at Firespring.
"I believe that Concordia has one of the best business programs centered on servant leadership and making a real impact," Bolay says. "My education at Concordia has allowed me to work for a company like Firespring, where we have committed giving 1% of our profits, 2% of our products and 3% of our people to do more good for society through our Power of 3 Program.
"If you are you looking for a university of community and value that has the opportunity to help you grow, then Concordia is the right fit for you."