IMPROVables on stage in December
Published by Concordia University, Nebraska 9 years ago on Fri, Nov 11, 2011 7:55 PM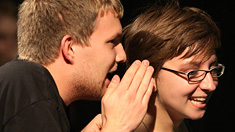 The Concordia IMPROVables comedy troup gave two shows on Friday, Dec. 2 in the Music Center's studio theatre. Both shows were free and open to the public.
The troupe has worked hard to create even more believable scenes since its first performance in September. "We felt it was important to emphasize slightly more realistic and relatable situations," said sophomore co-leader of the group Natalie Kesar, " but the same level, if not a larger amount of unpredictability and hilarity, is still there."
The leaders of the troupe have noticed significant improvement in the improvisational skills of the younger members. "We have a lot of freshmen and new faces this semester," said Kesar. "Watching them grow through the rehearsals and seeing them learn from the more experienced members has been astounding."
IMPROVables cast:
Kirsten Awe, Sophomore, Tilden, Neb.
Brittany Becker, Junior, St. Peters, Mo.
Katie Bergt, Senior, Fairmont, Minn.
Heather Eden, Senior, Boise, Idaho
Michaela Gierke, Freshman, Billerica, Mass.
Ethan Hutton, Junior, Muskegon, Mich.
Trent Jewell, Sophomore, Atchison, Kan.
Natalie Kesar, Sophomore, Omaha, Neb.
Philip Kober, Senior, Seward, Neb.
Marty Kois, Senior, Omaha, Neb.
Will Kois, Freshman, Omaha, Neb.
Alyssa Lehenbauer, Freshman, Lake Ozark, Mo.
Conner Lloyd, Freshman, Parker, Colo.
Andrew Magnus, Freshman, Springfield, Mo.
Allison Parkhurst, Freshman, Yorktown, Va.
Henning Peterson, Senior, Seward, Neb.
Cory Prelerson, Junior, Papillion, Neb.
Tim Rehbein, Junior, Omaha, Neb.
Lucas Schmidt, Freshman, David City, Neb.
Amanda Schroeder, Junior, Stevens Point, Wis.
Steph Schroeder, Freshman, Deshler, Neb.
Jordan Schultz, Junior, Beemer, Neb.
Rory Wendelin, Senior, Oberlin, Kan.
Steven Whitney, Senior, Kenyon, Minn.