IMPROVables host annual Homecoming show
Published by Concordia University, Nebraska 3 years ago on Thu, Sep 26, 2019 3:10 PM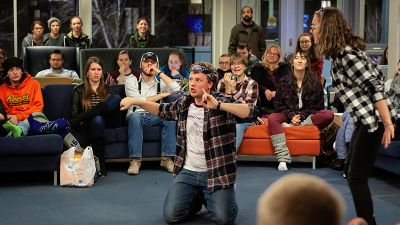 Concordia students Aaron Huesmann and Allison Story perform during the IMPROVables' annual 24-hour IMPROVathon last February.
The Concordia IMPROVables, a student improvisational theater group, will perform its annual Homecoming show, bringing a night of laughs to campus starting Friday, Sept. 27, at 10 p.m., and ending at 1 a.m. Saturday in the Janzow Campus Center.
While there is an initial show cast, the performances will be a "free-for-all," meaning anyone in attendance is free to participate in the games and activities.
"Our improv troupe is always looking for new members who either love to perform or are looking to simply improve communication skills," said Avery Kesar, one of the four students who organize the IMPROVables. "We consist of many different people, some who participate in theater, some who don't."
Following the Homecoming performances, the IMPROVables' fall schedule includes:
Friday, Oct. 4, at 7:30 p.m., Studio Theatre in the Music Center on Concordia's campus
Tuesday, Oct. 15, at 7 p.m., Seward Bandshell
Tuesday, Oct. 22, at 7 p.m., Olde Glory Theatre in Seward
Monday, Nov. 19, at 7 p.m., Studio Theatre
Saturday, Dec. 14, at 7:30 p.m., Studio Theatre
IMPROVables show cast (listed alphabetically):
Drew Boggs, Sophomore, Red Cloud, Neb.
Haleigh Fitzsimmons, Sophomore, Lincoln, Neb.
Joseph Greenmyer, Senior, Stirum, N.D.
Thomas Johnson, Senior, Omaha, Neb.
Avery Kesar, Junior, Omaha, Neb.
Samantha Pietanza, Senior, San Diego, Calif.
Allison Story, Sophomore, Clay Center, Neb.
Hannah Watt, Junior, Fairmont, Minn.