IMPROVables gear up for new year of performances
Published by Concordia University, Nebraska 10 years ago on Fri, Sep 9, 2011 4:14 PM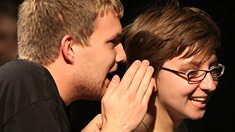 Tim Rehbein shares an on-stage secret with fellow IMPROVABLE performer Natalie Kesar.
The stage was set for the first appearance this school year of Concordia's IMPROVables comedy troupe. The group opened its season with two performances on Friday, Sept. 30, in the Music Center's studio theatre. Both shows were free and open to the public.
Audience members participated in each show and offered suggestions for material. "We act out short skits while completely making up the script as we go," said junior Tim Rehbein of Omaha, Neb., one of the troupe's leaders.
You might think that working scriptless doesn't take much preparation, but all that improvisational quick thinking takes practice. Rehbein along with co-leaders Amanda Schroeder, junior, Stevens Point, Wis., and Natalie Kesar, sophomore, Omaha, Neb., lead twice-weekly practices, so students can hone their improv chops.