IMPROVables back on stage
Published by Concordia University, Nebraska 9 years ago on Fri, Jan 20, 2012 1:17 PM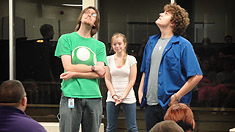 The IMPROVables perform a variety of unscripted, improvisational comedy skits and games to entertain audiences.
Concordia's IMPROVables comedy troupe took the stage for its first performances of the spring semester on Friday, Feb. 3, in the Thom Leadership Education Center auditorium.
Each performance featured musical games and a variety of other improvisational theatre techniques including both long- and short-form comedy. The twenty-four person cast invited the audience to not only watch the action but to participate as well.
"It is unscripted theatre; every show is unique!" said Amanda Schroeder, a co-leader of the troupe.
IMPROVables cast:
Kirsten Awe, Sophomore, Tilden, Neb.
Brittany Becker, Junior, St. Peters, Mo.
Katie Bergt, Senior, Fairmont, Minn.
Heather Eden, Senior, Boise, Idaho
Michaela Gierke, Freshman, Billerica, Mass.
Ethan Hutton, Junior, Muskegon, Mich.
Trent Jewell, Sophomore, Atchison, Kan.
Natalie Kesar, Sophomore, Omaha, Neb.
Philip Kober, Senior, Seward, Neb.
Marty Kois, Senior, Omaha, Neb.
Will Kois, Freshman, Omaha, Neb.
Alyssa Lehenbauer, Freshman, Lake Ozark, Mo.
Conner Lloyd, Freshman, Parker, Colo.
Andrew Magnus, Freshman, Springfield, Mo.
Allison Parkhurst, Freshman, Yorktown, Va.
Henning Peterson, Senior, Seward, Neb.
Cory Prelerson, Junior, Papillion, Neb.
Tim Rehbein, Junior, Omaha, Neb.
Lucas Schmidt, Freshman, David City, Neb.
Amanda Schroeder, Junior, Stevens Point, Wis.
Steph Schroeder, Freshman, Deshler, Neb.
Jordan Schultz, Junior, Beemer, Neb.
Rory Wendelin, Senior, Oberlin, Kan.
Steven Whitney, Senior, Kenyon, Minn.