Honor recitalists chosen
Published by Concordia University, Nebraska 12 years ago on Thu, Oct 21, 2010 6:49 PM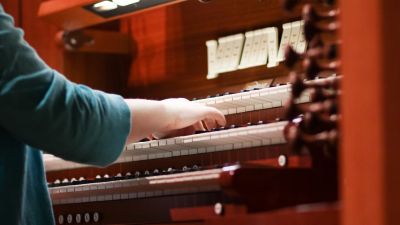 Ten of Concordia University, Nebraska's top music students were selected to perform in the fall honor recital that took place Nov. 11.
Participants auditioned for their slots by performing for members of Concordia's music faculty. Ten of the fifteen who tried out were selected for the recital. "Getting into a recital like this, you know you had to work hard and practice a lot to do so," said sophomore Joel Heckmann. "Also, it's pretty neat to be playing in the same recital as some of the best musicians on campus."
The honor recital showcased pieces by such composers as J.S. Bach, Felix Mendelssohn and Frédéric Chopin.
Fall 2010 honor recitalists
Lindsey Auten, soprano, Senior, Blue Hill, Neb.
Alisha Bohnert, organ, Senior, Jackson, Mo.
Toby Elbert, piano, Senior, Ramstein, Germany
Julia Gremmer, violin, Junior, New Braunfels, Texas
Joel Heckmann, piano, Sophomore, Canton, S.D.
Megan Heidemann, soprano, Senior, Seward, Neb.
Aaron Kortze, organ, Senior, Rockford, Ill.
Holly Petersen, soprano, Junior, Garland, Neb.
Chase Reihmann, piano, Senior, Marengo, Iowa
Reed Shoaff, trumpet, Senior, Colby, Kan.