High School Students gather at Concordia to compete in the History and Geography Quiz Bowl
Published by Concordia University, Nebraska 6 years ago on Fri, Nov 3, 2017 9:42 AM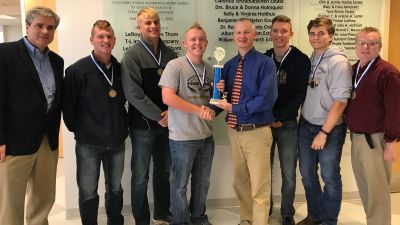 York B was among the 48 teams that participated in Concordia's Quiz Bowl on Oct. 25 and won first in the medium division.
Nearly 240 high school students showcased their academic knowledge at the third annual History and Geography High School Quiz Bowl held at Concordia on Wednesday, Oct. 25.
Participants traveled from 27 different high schools around the state making up 48 total teams.
"Our goal in hosting this event is to bring academic-minded students to Concordia to see our campus, meet professors, learn about our geography and history programs and compete in an academic quiz bowl focusing on history and geography," said Dr. Joel Helmer, history, geography and criminal justice department chair. "We are thrilled with the outcome of the event as it's now one of the largest quiz bowls in the state."
The tournament was divided up into small, medium and large school divisions. Creighton Prep A came out on top in the large school division with Creighton Prep B in second place. York B won the medium school division followed by Oakland-Craig. Finally, Friend A earned the first place award in the small school division with Osceola in second place.
The quiz bowl is run each year by the Department of History, Geography, and Criminal Justice and Seward High School. The professors joining Helmer in the event were Dr. Matt Phillips, associate professor of history, Dr. John Hink assistant professor of history and Dr. Jamie Hink, instructor of history.