High school artists' works chosen to become part of Concordia's permanent collection
Published by Concordia University, Nebraska 10 years ago on Fri, Mar 30, 2012 2:15 PM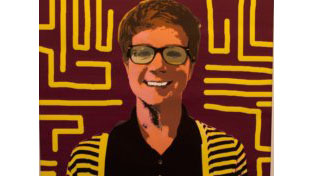 "Pop Art Self Portrait," by Michael Maxwell of Omaha.
The works of four young artists will soon be prominently displayed on the walls of Concordia's Thom Leadership Education Center. The pieces were selected from 128 works of art submitted for Concordia's inaugural Juried High School Art Exhibition on March 23.
"Erase Me," Brandon Metzler, "Planet Sepia," Sebastian Tine, "Pop Art Self Portrait," Michael Maxwell and "This Hand," Mark Sabaliauskas, received purchase awards. All of the artists are students from Creighton Prep High School in Omaha, Neb. In addition, "Mammal" by Michael Maxwell, also from Creighton Prep, was recognized as Best of Show.
"There was a lot of participation and the work was good," said Don Robson, art department chair. "We plan to do this indefinitely."
In all, 94 schools from four states participated in the show.