High School artists compete in art show at Concordia University, Nebraska
Published by Concordia University, Nebraska 9 years ago on Tue, Apr 2, 2013 7:08 PM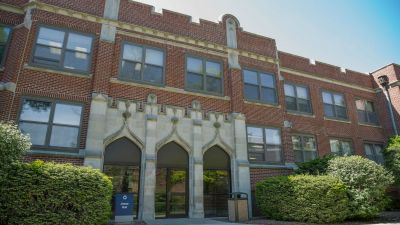 The work of four high school artists became part of Concordia's permanent art collection after being selected for purchase prizes during the Juried High School Art Show hosted by Concordia's art department on March 22.
High school students from across the nation were invited to submit up to three works of art. Art department faculty and staff then judged the artwork and chose 50 pieces to be displayed in the show.
Artists competed for cash prizes as well as four purchase prizes. Those awarded purchase prizes will have their submitted work hung in the Thom Leadership Education Center as part of Concordia's permanent collection.
The best of show award went to Dayoung Ko, a sophomore from Parker, Colo., for her work entitled Models. Francis Akoto, a sophomore from Omaha, Neb., won first place with Self-Portrait. Ko also took second place with Random Portrait, and Karissa Johnson, a senior from Weston, Neb., won third place with Forgotten Door.

Purchase prizes were awarded to Cory Starman, a senior from Omaha, Neb., for Revolution, Elijah Hays, a sophomore from Seward, Neb., for Bakock, and Mark Sabaliauskas II, a senior from Omaha, Neb., for Self-Portrait. Ko's Models was also awarded a purchase prize.