HHP students inducted into Phi Epsilon Kappa fraternity
Published by Logan Tuttle 6 months ago on Thu, Apr 15, 2021 11:18 AM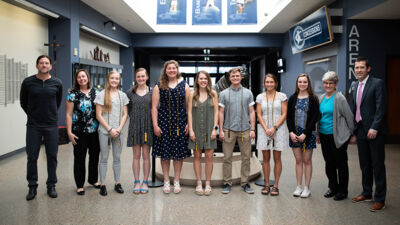 Health and Human Performance students and faculty participating in the Phi Epsilon Kappa induction ceremony on April 11 were, from left: Professor Chris Luther, Dr. Jennifer Janousek, Rachel Battershell, Erin Mapson, Gabrielle Luehr, Jordyn Hilyard, Zachary Bennetts, Sydney Clark, Hannah Fitzsimmons, Dr. Vicki Boye and Dr. Nolan Harms.
Concordia's Health and Human Performance (HHP) Department recognized students for their academic achievements on April 11, where students were inducted into the Eta Theta Chapter of the Phi Epsilon Kappa (PEK) fraternity.
PEK is a national professional academic honorary society for students engaged in or pursuing careers in health and human performance professions. In order to become a member, students must maintain an overall GPA of at least 3.25, major in some aspect of health and human performance, have at least junior standing, provide service to the Concordia community and participate in extracurricular activities.

Students inducted into PEK in 2021 include:
Rachel Battershell, senior, Wheatland, Wyo.
Zachary Bennetts, junior, Denton, Neb.
Sydney Clark, senior, Clive, Iowa
Hannah Fitzsimmons, senior, Lincoln, Neb.
Jordyn Hilyard, senior, Lincoln, Neb.
Gabrielle Luehr, senior, Wood River, Neb.
Erin Mapson, junior, Lincoln, Neb.
Mikeila Martinez, junior, Dixon, Calif.
Additionally, Battershell, Hilyard and Luehr, along with previous inductees Taylor Cockerill, a senior from Waverly, Neb., Rebecca Higgins, a senior from Lincoln, Neb., Tucker Platt, a senior from Stromsburg, Neb. and Hayley (Stazak) Platt, a senior from Plainfield, Illinois, received the Scholastic Achievement Certificate from PEK, which is awarded to members who maintain a GPA of at least 3.75 and are of senior standing.
Kaitlyn Radebaugh, a senior from Roca, Neb., was awarded the Dr. Jeffery S. Vessely Memorial Scholarship, a PEK award, which includes a $150 scholarship.