Health and Human Performance students receive scholastic recognition
Published by Concordia University, Nebraska 9 years ago on Fri, Apr 19, 2013 6:53 PM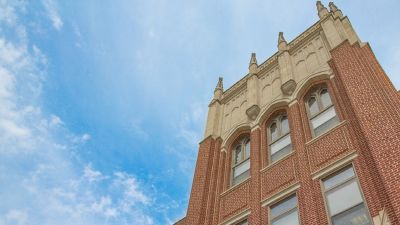 Eight Concordia students were recognized by Phi Epsilon Kappa, a health and human performance honorary society, for excellence in scholarship for 2013.
The recognized students include Hannah Betten, junior, Olathe, Kan., Kellie Fegter, senior, Holdrege, Neb., Sarah Heins, junior, Higginsville, Iowa, Laura Ruskamp, junior, Auburn, Neb., Morgan Stover, junior, Columbus, Neb., Jena Schwalenberg, senior, Columbus, Neb., Timothy von Behren, senior, Falls City, Neb., and Nicole Mapes, senior, Greeley, Colo.
Mapes was also selected as most outstanding scholar by Concordia's PEK chapter and received a $150 award. Mapes was nominated by Dr. Jennifer Janousek and other health and human performance department faculty members.
Members of the honor society were nominated for their excellence in scholarship by Janousek, their chapter adviser. Each eligible nominee must maintain a 3.5 or higher GPA in their major area of study in addition to the requirements for PEK membership
PEK is a national professional academic honorary society for students engaged in or pursuing careers in physical education, health, recreation, dance, human performance, exercise science, sports medicine and sports management. In order to become a member, students must maintain an overall GPA of at least 3.25, major in some aspect of health and human performance, have at least junior standing, provide service to the Concordia community, participate in extracurricular activities and lead a healthy lifestyle.
Concordia's Eta Theta chapter of Phi Epsilon Kappa began in 2011 and is one of 60 active chapters nationwide.