"Harvey" to delight theatergoers in Seward
Published by Concordia University, Nebraska 2 years ago on Fri, Mar 15, 2019 11:42 AM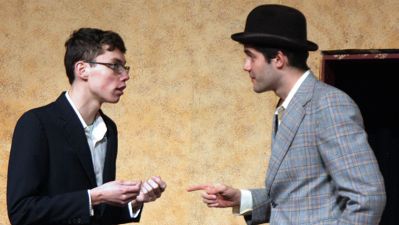 (L-R) Freshman Nathan Leonard and senior David Schrampfer rehearse for Concordia's production of "Harvey."
Concordia University, Nebraska's theater department will present "Harvey," by Mary Chase on Friday, March 22, at 7 p.m., and Saturday, March 23, and Sunday, March 24, at 2 p.m., at Olde Glory Theatre located at 348 Jackson Ave. in Seward.
This comedic and thought-provoking play focuses on Elwood P. Dowd and his best friend Harvey, an imaginary seven-foot-tall rabbit. With Elwood introducing Harvey everywhere he goes, his embarrassed family seeks to have him committed to an insane asylum. Through miscommunication and a funny turn of events, Elwood and Harvey strangely fascinate the doctors and nurses, and with their current conditions at stake, his family must decide if living with Elwood–and Harvey–is really as bad as it seems.
"The cast has embraced and enjoyed developing these fun characters and bringing out the humor of the dialogue and staging," said Bryan Moore, associate professor of communication and theater. "It's a different kind of challenge involving, essentially, an invisible actor, but we are working hard to bring Harvey to the stage, even if you cannot see him."
The doors open 30 minutes before each performance. Tickets are $10 for the general public and $5 for Concordia students, staff and faculty and are available for purchase at the Concordia Bookstore located in Janzow Campus Center, or at the door.
Cast members include (in order of appearance):
David Schrampfer, senior, Appleton, Wis., playing Elwood P. Dowd
Haleigh Fitzsimmons, freshman, Lincoln, Neb., playing Veta
Hannah Watt, sophomore, Fairmont, Minn., playing Myrtle
Miriam Wolf, freshman, St. Louis, Mo., playing Nurse Kelly
Tationa Trice, senior, St. Louis, Mo., playing Mrs. Chauvenet
Ruth Moon, freshman, Clark, Colo., playing Betty Chumley
Nathan Leonard, freshman, Topeka, Kan., playing Dr. Chumley
Matthew Murphy, junior, Seward, Neb., playing Dr. Sanderson
Broderick Schofield, freshman, Sylvan Grove, Kan., playing Wilson
Linnea Buchholz, sophomore, St. Charles, Mo., playing Judge Gaffney
Philomena Williams, freshman, Independence, Mo., playing E.J. Lofgren
Crew members include:
Director: Bryan Moore, associate professor
Assistant Director and Props: Chelsea Irwin, senior, Lincoln, Neb.
Stage Manager: Emma-Rose Grothaus, freshman, Lincoln, Neb.
Assistant Stage Manager: Mikayla Lowe, freshman, Atchison, Kan.
Set Design: Robert Olson, staff
Scenery: Chad Berg, senior, West Fargo, N.D.; Savannah Jordan, sophomore, Bayard, Neb.
Costumes: Alexa Spale, staff; Erin Rowland, senior, St. Peters, Mo.; Linnea Buchholz, sophomore, St. Charles, Mo.; Josh Frerking, sophomore, Tomball, Texas
Lights: Christopher Lewis Kasparek, junior, The Woodlands, Texas
Sound: Jonathan Kisker, junior, Lincoln, Neb.