Handbell Choirs celebrate generosity and growth
Published by Concordia University, Nebraska 1 year ago on Thu, Oct 28, 2021 9:51 AM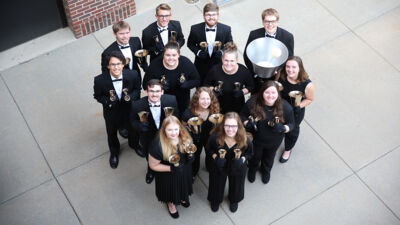 Concordia's handbell program includes the Concordia Ringers and the Concordia Handbell Choir.
By Scott Seevers
Senior Director of Development and Engagement

Jayson Klaumann, an education major and member of Concordia Handbell Choir, remembers observing several of the ensemble's concerts as a high school student. He was intrigued.
"Coming to the university as a freshman, I knew I wanted to have that experience for myself," he said.
Now he anticipates sharing handbell music with thousands attending the December Christmas concerts, a treasured event for many in the community.
"I am so looking forward to the end of this semester as I will have the opportunity to ring at Christmas at Concordia for the first time," he said.
The story of Concordia's handbell program is one of growth, but also of generosity from staff, alumni and supporters, culminating in the joyful sharing of handbell music with students, concert-goers, and congregations in Nebraska and beyond.
The growth of the program is evident not only in the number of student participants but also in the expanding inventory of instruments, according to Professor Jessica Kite, Concordia's director of handbell choirs. When Concordia's first handbell choir began in 1979, three octaves of bronze handbells served as the start-up inventory for one handbell choir, led by Dr. David Held. Professor Rebecca Dorn grew the program further during her tenure. By the time Kite took the reins in 2006, the music department had just over five octaves of handbells and three octaves of handchimes.
Academic Programs | Music
With our expert faculty, Christ-centered community and the construction of a new Music Center, Concordia Nebraska's music programs prepare students to glorify God through music, sharpen their skills as musicians and advocate for the musical arts in the church and world.

Today, Concordia's handbell program offers students the opportunity to audition for either a beginning or advanced 14-member ensemble. Concordia Ringers and Concordia Handbell Choir allow students with varying degrees of musical interest and ability to grow their skills and enjoy making music with their peers. The current instrument inventory contains more than seven octaves of bells, three octaves of handchimes, one octave of bass chimes and two octaves each of Cymbells and Silver Melody Bells.
"We now have bells that range in weight from four ounces to over 10 pounds!" noted Kite. "These instruments serve to prepare students for a wide variety of musical opportunities they may encounter beyond their college years."
Generosity has served as the fuel for growth in the Concordia's handbell program. Handbell lovers have given memorial gifts and concert attendees have been moved to contribute through offerings.
"Someone asked, 'What do you need to be on par with other schools?' and offered the funding to position the program for excellence in Nebraska and throughout the country," recalled Kite.
An estate gift supplied enough funding for the most recent surge in instrument acquisition.
"Donors have enhanced almost every aspect of our handbell program through their generosity," she said. "They have made it possible for us to travel, produce a CD, attend workshops and special concerts, replace old equipment and purchase new additional bells and chimes for students to play!"
Nathaniel Mars, a current pre-seminary and church music major from Kimball, Nebraska, said that he enjoyed participating in the handchime choir at his home church and looked forward to joining a more advanced choir with more difficult music.
"I really enjoy when music is mastered enough to where everyone can get in the groove and enjoy the music they are playing," he said. "That is when I think we play our best and enjoy it the most. I simply love playing handbell music with my friends in the handbell choir."
And, in typical Concordia fashion, sharing that joy is integral to the program. The choir endeavors to not only grow and enjoy making music, but also to serve and give glory to the Lord. With Kite's guidance, they ring at church services and conduct clinics for adult handbell choirs at congregations. One congregation in Kansas so valued the opportunity for a clinic, they raised money to fund the handbell choir's travel expenses.
In addition to enjoying new handbells, Concordia's ringers are also enjoying some new special music. During the pandemic, the choirs posted some of their pieces on their Facebook page. Kite said Matthew Compton, a composer and nationally-recognized clinician, contacted her after hearing an online concert, asking, "Would you be interested in having me write something for Concordia Handbell Choir?" Kite quickly said yes and the result was a wonderful composition the choir is currently rehearsing.
"The students are loving it," said Kite. "Working on an original composition that was created with our new bells in mind has been such a fantastic experience and we cannot wait to perform it! Time and time again, we have been blessed through the gifts and talents of others."
One more delight the handbell choirs are anticipating is a new home. Currently practicing in a converted space in historic Jesse Hall, Kite and her students look forward to a newly remodeled rehearsal room, complete with a custom-designed closet for storage of their instruments. It will be located in Concordia's new Music Center, currently under construction.
"This new facility is just another way that our handbell choirs will be supported by the incredible generosity of our donors," Kite said. We are so thankful for these gracious gifts that enable us to continue making excellent music to God's glory!"
The new Music Center is scheduled for an August 2022 opening, with the intention to fund the project entirely through philanthropy.