Guest conductor directs Concordia choirs as part of the Jones Fine Arts Series
Published by Concordia University, Nebraska 3 years ago on Fri, Aug 31, 2018 12:07 PM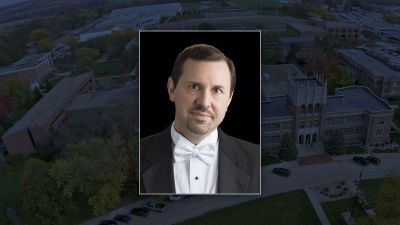 Dr. Andrew Last, assistant professor of music at Luther College, will guest conduct Concordia's choirs in a recital at 7:30 p.m., Sept. 14 as part of the Jones Fine Arts series.
Concordia welcomes Dr. Andrew Last to conduct the Concordia choirs in a recital at 7:30 p.m. on Sept. 14, at St. John Lutheran Church in Seward, Nebraska.
The recital is in conjunction with The Jones National Bank & Trust Company Fine Arts Series, which has engaged the Concordia University and Seward communities by providing performances by and dialogues with nationally and internationally recognized clinicians in music, art and drama. Clinicians have been selected on an annual basis by special invitations sent to the clients of the Jones National Bank and Trust Company.
"By bringing music, art and drama performance clinicians to inspire and enlighten, the Jones Fine Arts Series has greatly enhanced Concordia University and the Seward community," said Jen Furr, director of alumni and university relations at Concordia. "It is through the arts that people learn and feel things about themselves and about others that they otherwise would not."
This year, Dr. Andrew Last will act as the music clinician. He will conduct the Cantamus Women's Choir, the Male Chorus and the University A Cappella Choir to put together an all-encompassing concert of choral music. It will feature a wide variety of anthems and a hymn concerto with all three choirs singing together.
Dr. Andrew Last is an assistant professor of music and teaches conducting at Luther College in Decorah, Iowa. He serves as the conductor of the Nordic Choir and the Director of Choral Activities at Luther. Prior to his appointment, Dr. Last served on the voice faculty of Concordia University, Nebraska. Dr. Last holds a DMA in choral conducting from the University of Nebraska-Lincoln, where he was named a Hixon-Lied Fellow. He received his Master of Music from Northern Arizona University and his Bachelor of Arts in music education and voice from Luther College. His high school teaching experience includes positions at both Xavier High School in Cedar Rapids as well as Tipton High School in Iowa. He frequently acts as a clinician and guest conductor in the United States and abroad, including Namibia, South Africa and Guam.
The recital is free and open to the public.