Guest artist Nathan Mertens performs saxophone recital at Concordia
Published by Concordia University, Nebraska 5 years ago on Fri, Mar 4, 2016 9:09 AM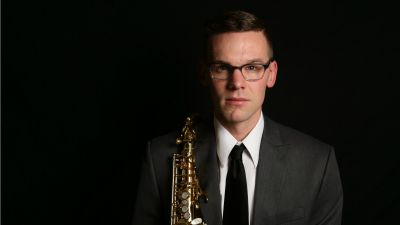 Professional musician Nathan Mertens
Guest artist Nathan Mertens will perform a saxophone recital at Concordia University, Nebraska on March 16, 2016, at 3:40 p.m. He will also lead a master class for Concordia students following the recital.
Mertens is currently a saxophone teaching assistant at the University of Texas at Austin, where he is pursuing a Doctor of Music Arts degree in saxophone performance. He performs with the University of Texas Wind Ensemble, Austin Saxophone Ensemble, Vermilion Saxophone Quartet and University of Texas Saxophone Ensemble.
Mertens has received numerous honors and recognition at the Music Teachers National Association Young Artist and Chamber Winds Competitions on multiple occasions. He was recently chosen as the winner of the University of Texas Symphony Orchestra's Concerto Competition and was previously the winner of the Hastings Symphony Orchestra's Young Artist competition. He has been a finalist for the Arapahoe Philharmonic Concerto Competition, Eastern Connecticut Symphony Instrumental Competition and the Coeur d'Alene Symphony Orchestra Young Artist Competition.
In addition to an active solo and chamber performance schedule, Mertens also maintains a private woodwind studio in Austin, Texas. He has placed students in national competitions, statewide honor ensembles and college music programs.
Mertens' professional memberships include the College Music Society, Phi Mu Alpha Sinfonia and the North American Saxophone Alliance.